Image Credit: © Sony Pictures Animation
Passion is as important as skill when it comes to animation. Having the drive to be extraordinary is what separates the good from the great. Take a trip into the "Spider-Verse with Sony Pictures Imageworks Senior Animator Ere Santos and discover his story, from where he started to how he developed a passion for computer graphics. Mentors are an important part in this field, make sure to hold onto every word they say — you never know where inspiration can spark.
SIGGRAPH: Share some background information on your career. What brought you to computer graphics? What's your favorite thing about your job?
Ere Santos (ES): I started watching a lot of Disney movies, like every other animator. I remember watching a behind the scenes of [DreamWorks Animation's] "Madagascar" and thought, "Wait a second. Does that mean that they are being paid to do animation and make cartoons? That's amazing!" That's when I was "bitten by the bug" and knew I really wanted to do computer graphics, and it has been my career since then. My girlfriend introduced me to Blender.org, which offers free 3D software that allows you to make games and movies — really anything you want — with it. Using Blender helped spark my passion for computer graphics.
Currently, I'm working on the "Spider-Man: Into the Spider-Verse" sequel, but I started out with an animation internship at Pixar [Animation Studios]. Then, I moved over to Sony to work on "Hotel Transylvania 3: Summer Vacation". Next, I went back to Pixar very briefly to work on a short film called "Loop". I then made a change and moved to London, where I worked at MPC Dynamic and Jelly Fish on a couple of projects, and, lastly, I came back to the U.S. in March to work on "Spider-Man".
My favorite thing about my job is character animation. I get to film myself just acting like a doofus for a few hours, and that feels amazing to get to translate that into computer graphics. The process is always so exciting to me.
SIGGRAPH: What is the best career advice you've ever received? Who gave it?
ES: The best career advice I received is from Dave Badgerow (Disney). "If you want to do film or animation, or anything like this: Don't do it." [He then expanded to say that] if someone saying "don't do it" gives you a feeling that really makes you think "I shouldn't do it", there's your answer. But, if someone saying "don't do it" makes you say "I'm going to do it anyway", then that's when you know that you have a passion for it. Having passion is the most important thing.
SIGGRAPH: In your opinion, what technology doesn't get a lot of love but has greatly improved the world?
ES: I think there are a lot of applications around VR that could be more than just gaming and entertainment. We're not delving into a lot of them because most of the money is in games, but there's a wide range of untapped development opportunities that could be applied to the fields of medical, engineering, or architecture, to start.
SIGGRAPH: What excites you most about your work? Where does your passion come from?
ES: My passion comes from observing people and being around them to learn. This pandemic has been tough for me because that's one of the many reasons that made me excited about my work. Coming to work everyday and getting to see what my co-workers were working on inspired me to make the films I want to watch. The past two years has been a lot of time at home, so I haven't had the opportunity to go behind my peers and gain as much inspiration from them.
SIGGRAPH: What is one contribution you've made to the industry that has been most meaningful to you?
ES: My most meaningful contribution is being able to give back to students. The reason I got into the industry was through the generosity of my mentors, and I work to the best of my abilities to give back and mentor those who ask for it.
SIGGRAPH: What's one thing you keep at your desk that you can't live without, or that inspires you?
ES: My mirror. That is the greatest tool when you are looking for inspiration. I use it throughout the entire day. It's such a great tool for getting reference if you are ever struggling with a specific pose, it helps to be able to find some sort of accuracy.
SIGGRAPH: Share a resource — or resources — you frequent for inspiration.
ES: My two major sources of inspiration are parks and Netflix. I try to watch as many movies as I can to help produce new ideas. But, I also love going to the park or to a café to just sit and observe people existing. It is one of the most entertaining and inspiring things to just see life happen before your eyes. For example, a barista completely bored with their job, while someone else is super excited. I get to see all sorts of people in the same situation, which makes me think that we all made decisions in our life — and our parents and grandparents have, as well — that all lead us to being in that one café in that one particular moment in time. This phenomenon fills me with such joy and helps my inspiration grow.
SIGGRAPH: Have you ever attended a SIGGRAPH conference?
ES: I've never attended an in-person SIGGRAPH conference but I've always dreamt of going to one. I've always pictured it as a place filled with ultimate inspiration, where people are always talking about the newest innovations. I got the opportunity to attend a virtual SIGGRAPH conference while I lived in London and was able to join in on events like the "Drinking Draws".
SIGGRAPH: Finally, since February offers us a chance to celebrate Black History Month, tell us a Black computer graphics/science pioneer you admire and why and/or what advice do you have for the next generation of Black creators entering computer graphics?
ES: I admire Marlon West (special effects animator/supervisor, Walt Disney Animation Studios). The first time I saw him in a behind the scenes [featurette], he was with another animator Jamal Bradley. I remember watching and having a realization that people like me are doing these effects. I was instantly inspired because if they can do it, then there's no reason that I can't.
That itself is the piece of advice I would give to the next generation of Black creators entering computer graphics. If someone else can do it, you can do it, too. And, if it's never been done before, it's just going to be a little harder for you to create it. I've adopted the mindset that if I want to do something, there's nothing that can stop me; I just need to work hard to get to where I want to be.
Also, if you want to accomplish something, keep working hard at it because one of two things is going to happen — you are either going to accomplish your goal, or you are going to die. If you spend enough time on something, one of those two things is going to happen so you might as well keep trying. When you fully invest in your career is when your best work begins.
To read more career profiles, click here.
---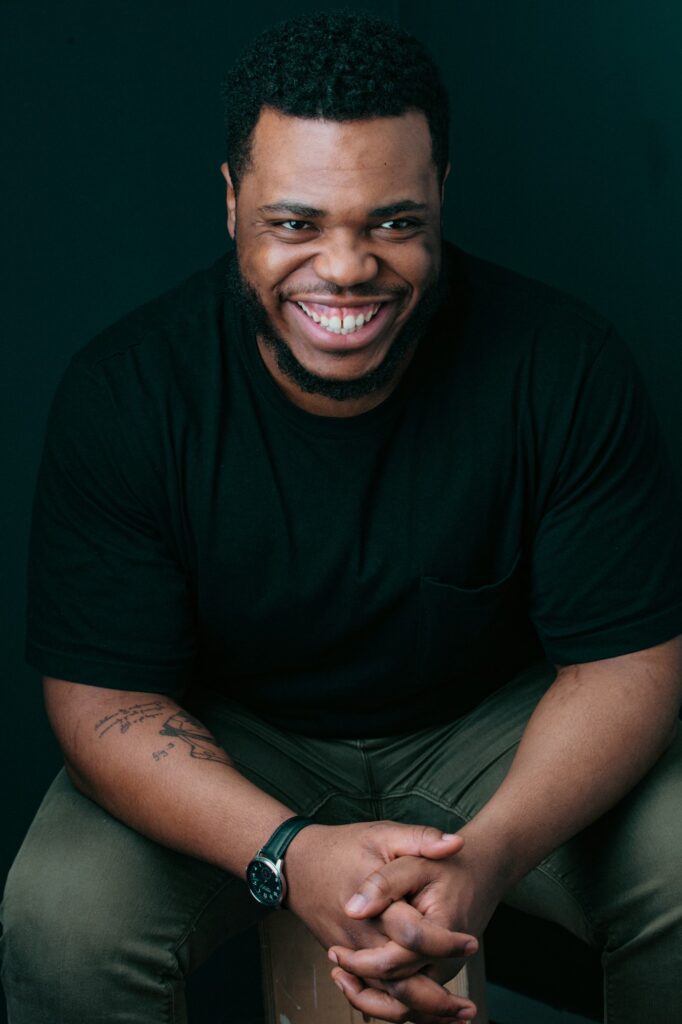 Ere Santos is a self-taught animator who has worked all over the world at studios like Pixar Animation Studios, DNEG, Jellyfish, and MPC. He is currently a senior animator at Sony Pictures Imageworks on the upcoming sequel to "Spider-Man: Into the Spider-Verse". Having worked in a variety of styles, ranging from ultra-realistic to ultra-cartoony, he uses his solid grasp of entertainment and performance as a central role in every single one of his jobs, from a professional right down to a creative standpoint. Ere has been working professionally as a character animator in feature films for 5 years. He started his journey as a self-taught animator for many years before studying mathematics and computer science at Trinity Western University in Vancouver, Canada. Powered by his love of film, computers, and performance, he continued his self-taught animation journey while studying for his degree. After years of painstaking effort, Ere was accepted into an animation internship at Pixar, where he truly started to hone his skills as an animator.