Photo Credit: Alain Chesnais, 2018
The LEGO, the myth, the legend: it's LEGO Alain! LEGO Alain turns 8 years old on 20 July, and we couldn't think of a better way to celebrate the figure's birthday than by sharing the history of how LEGO Alain came to be. Whether you're a student volunteer veteran, team leader, or part of one of the many committees in the SIGGRAPH community, you most likely have a photo with the famous LEGO figure. New to ACM SIGGRAPH? Well, this is your opportunity to learn about how LEGO Alain has played a wonderful part in the experience of the SIGGRAPH conference. 
The History
In 2012, Alain Chesnais was attending the SIGGRAPH conference in Los Angeles when he was approached by another SIGGRAPH volunteer, Patricia "Pat" Beckman Wells. Patricia is a creator of films and emerging technology entertainment, whose studio overlooks the Angeles National Forest, and the writer of "Face It: A Visual Reference for Mutli-ethnic Facial Modeling." When Alain met Patricia, he discovered she had a long history of volunteering for SIGGRAPH and was working on her doctoral thesis. 
She asked if Alain would chat with her about what she was proposing to do for her thesis, using computer graphics for education, and Alain's response was: 
"I agreed [to chat] and [Pat] explained what she was planning to do. I got very excited about her project and the impact it would have in teaching children to be creative. It revolved around a series of monsters that were 3D rendered, and getting students to submit work based on what they experienced. I loved the project and suggested that I could help her build and deploy the website that students would connect to [in order] to take part in the experience. So, what started out as a simple conversation at the LACC [short for Los Angeles Convention Center] became a close collaboration over several months as the project took shape and students used Pat's system for the first time. The project was a great success and Pat ended up getting her thesis with honors!"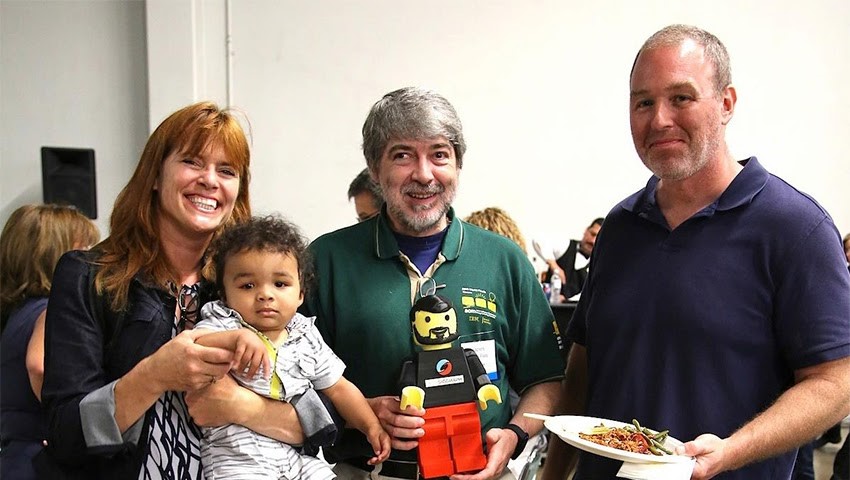 As a "thank you" and a token of her appreciation for Alain's help on her Ph.D. thesis, Patricia decided that she wanted to give a special gift to Alain. 
Alain explains: "She had noticed on my Facebook page, at the time, that I was particularly keen on anything to do with LEGO sets. I would regularly share stories about amazing creations done with LEGO blocks and pretty much any news concerning new releases from the company. Pat's husband [Scott] is a gifted professional modeler and they just happen to have a few 3D printers at home, so they decided to design and 3D print LEGO Alain as a special gift that I was sure to enjoy. When we headed back to SIGGRAPH in 2013, they presented him to me on the first day of the conference [20 July]. It was amazing! As soon as they gave him to me, I couldn't walk 10 feet without someone, generally a student volunteer, stopping me to ask to have their picture taken with him. That's how the tradition started, and I have made it a point ever since to try to get a picture of every student volunteer with him at both the SIGGRAPH conferences."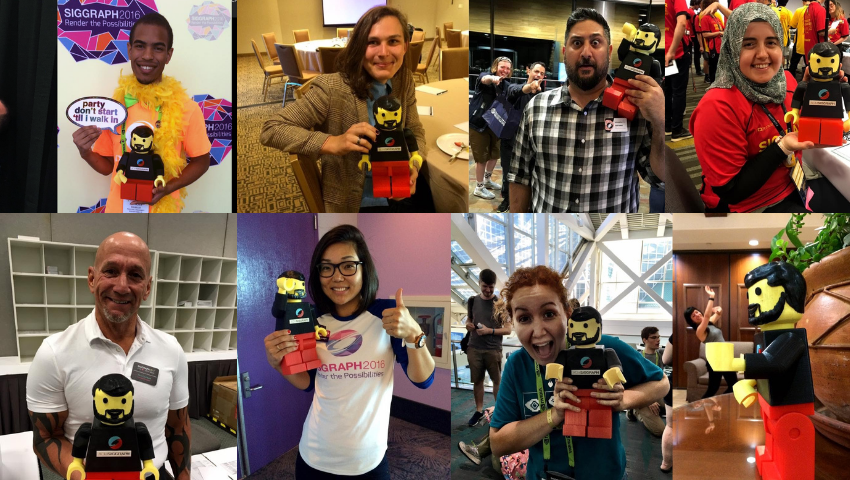 The Present
As we circle back to the present, LEGO Alain has grown so popular, Alain claims that there are now over 8,000 photographs with various SIGGRAPH volunteers. Talk about a popular LEGO! Alain posts many of his photo's on his Flickr account as well as LEGO Alain's personal Facebook page — both of which we highly recommend you check out as there are so many familiar faces, as well as some awesome memories from previous conferences.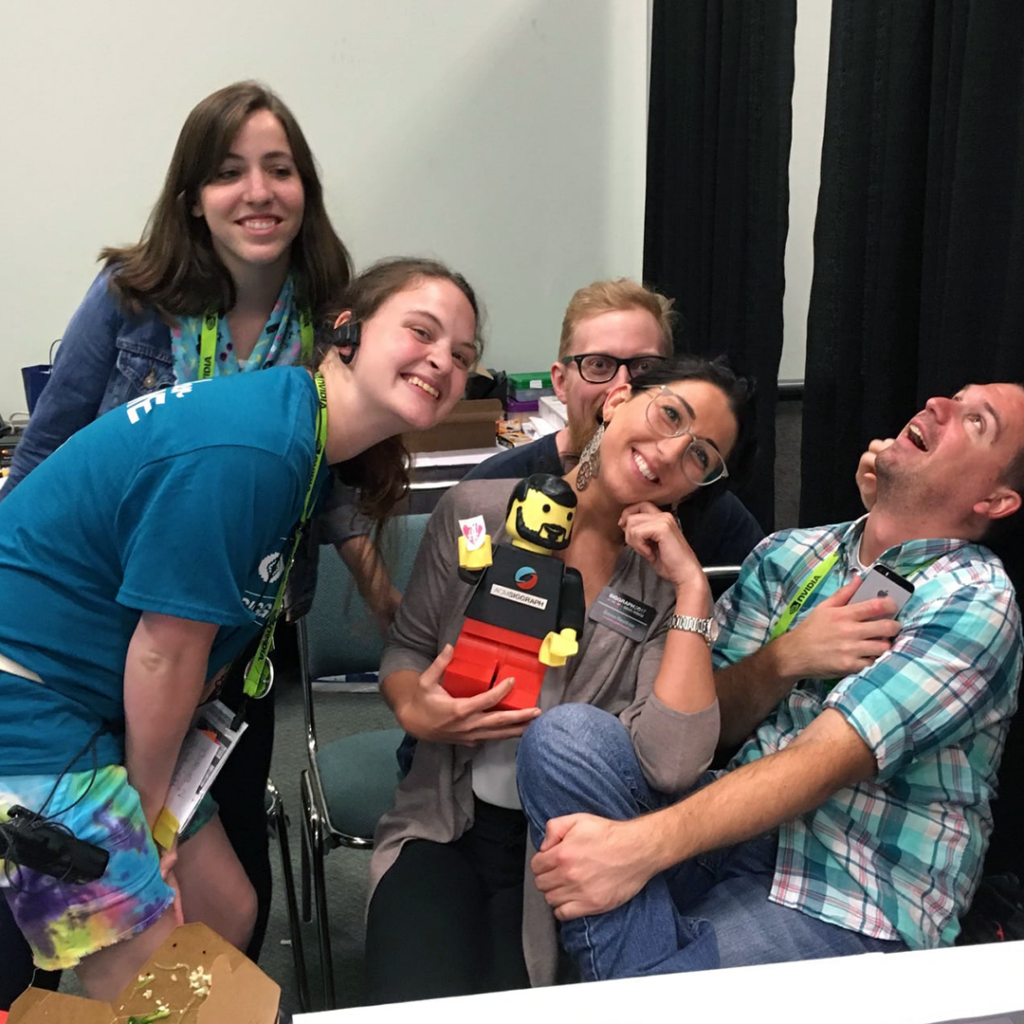 Now that you are caught up in the history, let's all wish a very happy birthday to LEGO Alain! 
---
SIGGRAPH 2021 will be held online 9–13 August, with on-demand content available 2 August through 29 October. Register now and explore the programming on the official conference website.