Virtual production may have been a distant reality for many in the industry before COVID-19 hit, but some some people, like Jim Geduldick (Director, Virtual Production and SVP of North America, Dimension), have been dealing with and adapting to its curveballs for years — coming up with new innovations, bringing digital into the physical world, changing how we see our everyday lives.
At Dimension, Jim and his team are doing just that with a focus on creating next-generation digital humans, XR content, and more. Their plan? To constantly evolve past people's expectations. Like with any trend, the next best thing never lasts long. In the virtual world, the lifespan of the newest "thing" is much shorter. So, we sat down with Jim to learn more about how his career began — and evolved — and what we can expect from virtual production in the future … even if that means we can't expect anything.
SIGGRAPH: What led you to focus your career in computer graphics?
Jim Geduldick (JG): The route I took into computer graphics (CG) came via filmmaking and skateboarding, funny enough. It really came down to wanting to know how things were made, like my favorite films and animated cartoons. As I taught myself about cameras and editing, it naturally led into CG and visual effects (VFX). I started with programs like After Effects, C4D, and Maya. I learned more about compositing and 3D as my interests and career developed. My favorite part of my job is that it keeps evolving. I have been fortunate enough to keep my finger on the pulse of what comes next in both the creative and technical sides of the business. The new challenges that spring up keep things fresh. Plus, who doesn't like to play with new cameras and software?
SIGGRAPH: What is the best career advice you've ever received?
JG: Communication is key. I have been told this by so many people: Be open to learning new things, and take time for your mental health as much as your physical health. These things are way too overlooked because of the fast-moving nature of our industry.
"Life moves pretty fast. If you don't stop and look around once in a while, you could miss it." —Ferris Bueller
SIGGRAPH: In your opinion, what technology doesn't get a lot of love but has greatly improved the world?
JG: Well a two-sided one that does get love is the iPhone. It has changed everything. Some other technologies from on set would be simple laser measures or a proper data wrangle template. Oh, and coffee…
SIGGRAPH: Share a resource you frequent for inspiration.
JG: Tough one. I might need a few pages for all [my] inspirations. Sites would be: Artstation, Pinterest, fxguide, Instagram, and good old YouTube. Podcasts are:
And, when it comes to, books, I frequent a mix of resources, both print and audio. Some of my favorites are: "Understanding Physics", "The Complete Foundation Series", and "Ego is the Enemy". I also like a lot of my artist friends' books and most of the "Art" and "Making of" books on cinematography, VFX, and animation.
SIGGRAPH: What is one contribution you've made to the industry that has been most meaningful to you?
JG: For me, I like to give back by sharing what I have learned and educating others. That is the reason why I like participating in panels and industry events. I've had some great friends share their time and expertise with me over the years. Most of the creative industry is great about sharing knowledge. If you use it well, social media is one great way to share, discover, and educate. At the end of the day, it really comes down to building relationships in the industry that can keep you progressing and keep work from getting stale.
SIGGRAPH: What does remote work look like for you and your teams? What changed over this last year and what stayed the same?
JG: Everything has changed because of the pandemic. New tools are maturing, like real-time engines. Cheaper MoCap (motion capture) and faster hardware are just a few. I believe remote work should have been wider spread earlier on, giving artists the option to split studio time with work from home. If you freelanced for part of your career, you were already spoiled by some of the benefits of working remote. While deploying systems and getting remote artists and teams set up can be a little rocky; you have all your communication channels, asset management, VPNs, remote render, and software/hardware to facilitate it. For me, a lot has changed and that means there are new challenges that need solutions.
SIGGRAPH: How do you approach changing your virtual process from director to director?
JG: It's not just from director to director alone; the entire process for virtual production differs by project. Certain directors, cinematographers, VFX supervisors, and production designers have their way of doing things. They are used to working with the teams they usually work with. Introducing new methodologies and tools can be a little alien to them. When I am leading virtual production teams as a Virtual Production Supervisor, I have to have a good view of the whole project technically and creatively, as well as have a hold on the many parts and departments you need to interface with to get the project through to final. Since a lot of decisions are being made upfront with virtual production, you have to communicate to the studios and key department heads what decisions will have big effects on the productions and projects. My recommendation, test as much as you can prior to getting on set.
SIGGRAPH: What are some trends in virtual production that have emerged out of the pandemic that you see sticking around and why?
JG: I can tell you a few trends today and by the end of the year they would have likely changed. It's just the nature of how fast everything is moving. I'll tell you some of today's trends are:
Shooting on LED volumes with a pixel pitch of 1.8 to 2.5
Using various camera-tracking technologies between optical-, marker-, and radio-based, which could see change drastically in the next few years due to AI and machine-learning advancements.
What I see sticking around is needing talented artists and engineers on your brain bar, LED integration, and VAD teams. The tech is going to keep evolving and we'll be using different tools to help tell stories for virtual production. Whether it be ICVFX (LED), out of vision (LED), Live XR, MoCap, PCap, all the Viz types (Pre, Tech, Post), we have many aspects under the umbrella of the term virtual production. As we see trends change, my advice is to keep learning and make time to experiment so that you can stay ahead.
Hear more production insight during SIGGRAPH 2021. Register for the virtual conference today.
---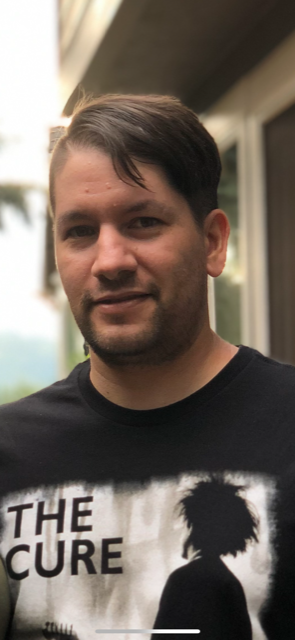 Jim Geduldick is the Director, Virtual Production and SVP of North America at Dimension. Portland based, Jim is known for his work as a cinematographer, director, and visual effects artist on projects for Epic Games, Intel, Google, GoPro, Red Bull, Nike, Adidas, Nat Geo, Hulu, and many more. He has honed his skills across media and entertainment working on features, broadcast TV, music videos, documentaries, virtual reality, and action sports films.