Original art by Kyra Kupetsky, drawn in Procreate
You may have first discovered Kyra Kupetsky via her popular Instagram account, or perhaps through her work at BuzzFeed, or — last but not least — you might have heard from her during the virtual SIGGRAPH 2020 Diversity & Inclusion Summit. No matter where you discovered Kyra or her work, the talent she possesses is undeniable, which makes her the perfect spotlight for our first Women's History Month career profile. Read on to learn more about Kyra's journey, where she finds inspiration, and the best advice she's received.
SIGGRAPH: What brought you to computer graphics, and what's your favorite thing about your job?
Kyra Kupetsky (KK): I've grown up always loving art and animation, having been drawing since I was a young kid. I knew I wanted to do art for a living in some way. It wasn't until high school that I fully set my aspirations on pursing a career in 2D animation. I attended the School of Visual Arts in 2011 and obtained a BFA in animation, moving out to Burbank, California a year after graduation. There are a limited amount of 2D animation jobs nowadays, so it was a bit of a struggle to find work. Until, one day, BuzzFeed put out a listing for an animator in 2017. I applied and I've been working there ever since! I absolutely love working at BuzzFeed. I get so much creative freedom and the ability to collaborate with such wonderful people. Getting to create animation in a new media sense is a very exciting frontier and I'm so grateful to be a part of it.
SIGGRAPH: What is the best career advice you've ever received?
KK: I think the best bit of advice I've ever received, having received it from various professors and fellow artists, is that animation is a collaborative effort and your peers are not your competition. We're all in this together, making fun and entertaining content. You shouldn't feel as though you need to beat everyone else in order to be the best. There is no "best".
SIGGRAPH: In your opinion, what technology doesn't get a lot of love but has greatly improved the world?
KK: I think digital animation and art programs are awesome. I think it's ridiculous to claim that the computer does all the work for you. It takes an enormous amount of skill to be able to create art digitally, just as much as it does traditionally. The aid of programs like Animate CC, which I use for my job currently, is so infinitely helpful. I'm personally able to work faster with the help of copy/paste and, of course, the always helpful undo button. There are beautiful, traditional, art-esque brushes being created for digital programs as well, which is very exciting for everyone.
SIGGRAPH: What excites you most about your work? Where does your passion come from?
KK: I love seeing my drawings come to life in animation. It's so fun to just experiment and see how interesting you can make things be. I'm hopelessly in love with drawing so getting to draw many frames is a lot of fun for me. It's so exciting to envision something in your head and then go on to bring it into reality through the medium of animation. It's also just a great motivator to want to create the type of content that you'd like to see in the world. It really helps drive me.
SIGGRAPH: What is one contribution you've made to the industry that has been most meaningful to you?
KK: I think just being able to help others get into the industry through recommending them to BuzzFeed has been something I'm very grateful for. I've been able to get various animators jobs and get their foot in the door. Other than that, I've been very proud to create LGBT-oriented content within my work. We need more positive representation and every little bit counts. 
SIGGRAPH: What's one thing you keep at your desk that you can't live without, or that inspires you?
KK: I always have my iPad near me for when I need a break from work. I am absolutely someone who takes a break from drawing … by drawing other things. It's nice to relax with everyone during my lunch break and doodle on my iPad. Otherwise, I like to surround my work space with things that make me happy and inspired, art from my friends is posted to the wall beside me. Various figures of cartoons on my desk. It's a nice environment.
SIGGRAPH: Share a resource you frequent for inspiration.
KK: I get tons of inspiration from other artists and cartoons that are always coming out. It's so exciting to see what others make. I also love going around to fun locations around L.A. — or wherever I'm at — and just relax and draw. Being in a fun nighttime surrounding like West Hollywood or at a nice beach is very invigorating. I like being around bustling surroundings while I relax and draw.
SIGGRAPH: As a past contributor, what is your fondest SIGGRAPH conference memory?
KK: I had so much fun contributing with my fellow peers on our virtual talk [for SIGGRAPH 2020]. It's so cool to be able to talk about what I love doing for a living with others who love what they do.
SIGGRAPH: Finally, since we're celebrating Women's History Month, what advice do you have for the next generation of women entering computer graphics?
KK: The advice I'd give for the upcoming generation of women entering computer graphics is: Go forth and make what you want to see in the world. Don't let others try to tell you that you're not good enough or anything of the sort. We have the technology nowadays to be able to create our work from just our home computers and tablets. If you want to create a show, a comic, anything, go out there and do it. So many people will be there to support you. And, if you're not ready yet either, that's perfectly fine. There's no race, everyone will be there, waiting for you happily when you finally put your work out there.
Celebrate Women's History Month with us all month! Discover more ACM SIGGRAPH Blog content women in computer graphics.
---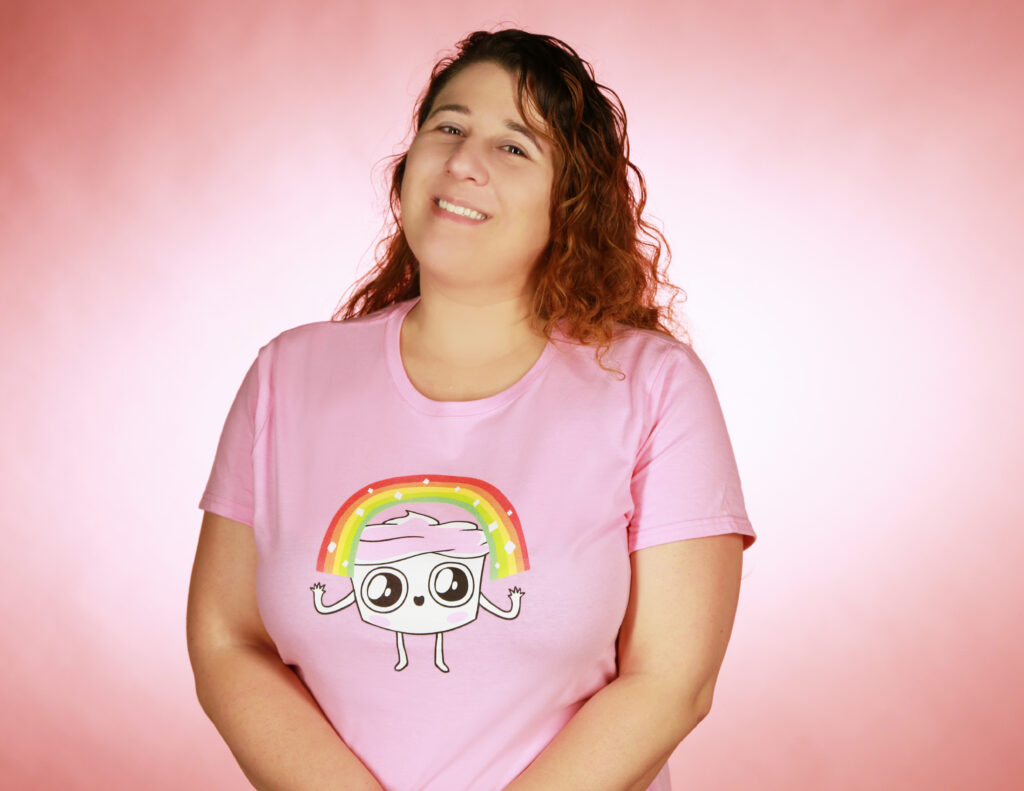 Kyra Kupetsky is a 2D animator living in Burbank, California. She currently works for BuzzFeed as the creator of Chikn Nuggit, a new animated TikTok account with over 1 million followers. She was previously the lead animator and artist for BuzzFeed's The Good Advice Cupcake as well as the voice of the titular character, Cuppy. She graduated from the School of Visual Arts with a BFA in animation in 2015 and has been living and working in animation in California ever since 2016. Her aim is to make content that makes people laugh and feel happy, as well as being a big proponent of positive LGBT representation within media and in general. Kyra is excited to see the future of animation and how its delve into New Media territory makes things incredible and accessible for everyone. Follow Kyra on Instagram or Twitter.