photo by Jim Hagarty © 2019 ACM SIGGRAPH

When it comes to computer graphics, interactive techniques, and the SIGGRAPH conference, we know it's not always easy figuring out where your work might fit. So, we've created a guide to submitting your work for consideration in the conference's Experience Hall programs, which include Art Gallery, Emerging Technologies, Immersive Pavilion, and SIGGRAPH Labs. Read on to learn more about what exactly the Experience Hall is and how your project might fit into the programming. (Click here for a guide to all programs.)
What is the Experience Hall?
The Experience Hall is one of the most popular and visited spaces during the SIGGRAPH conference. Designed as a place where attendees can both observe groundbreaking projects in computer graphics and immersive arts and interact with the creators, the Experience Hall is truly a must-see. The following programs make up the content within the Experience Hall:
Where Does Your Project Fit in the Experience Hall?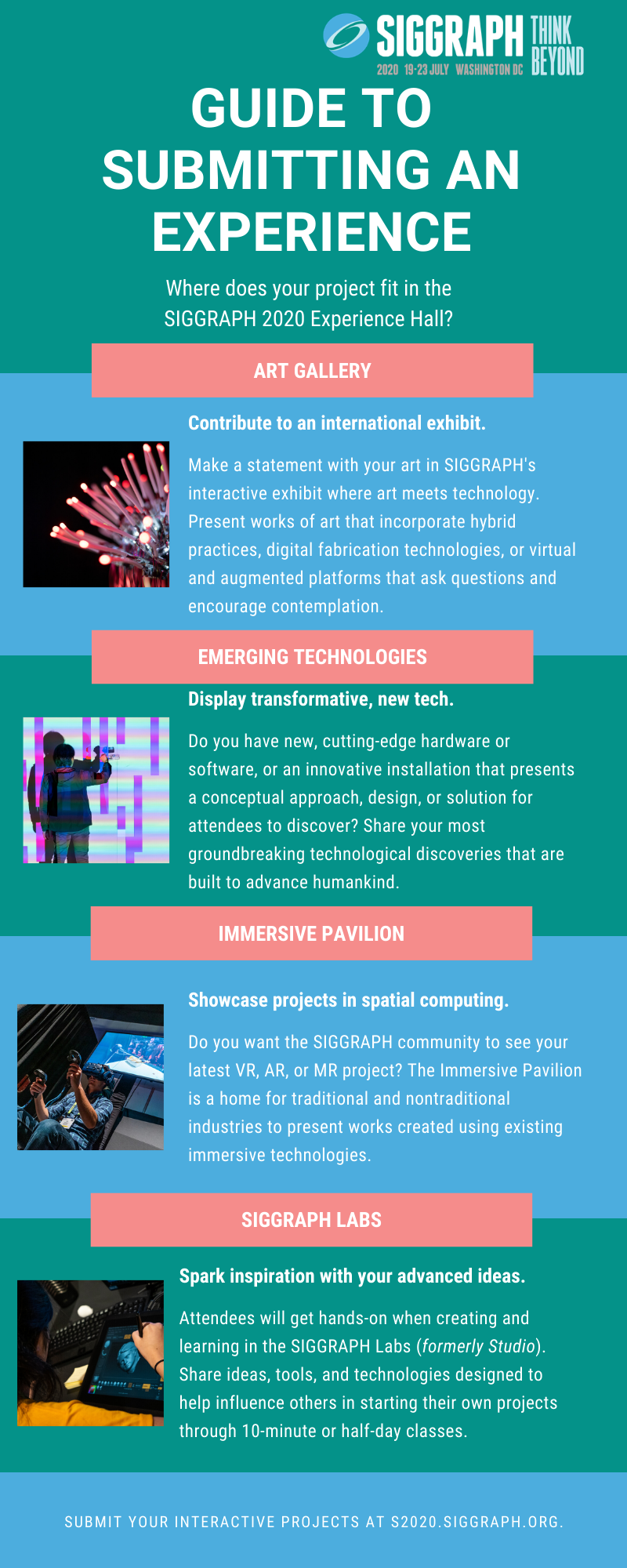 (Top to Bottom) Art Gallery and Emerging Technologies photos
by Andreas Psaltis; Immersive Pavilion and SIGGRAPH Labs
photos by Jim Hagarty © 2019 ACM SIGGRAPH
Steps to Submitting
Go to https://ssl.linklings.net/conferences/siggraph and create a profile.
Once set up, login and choose the "Make a New Submission" tab.
Select the program name (Art Gallery, Emerging Technologies, Immersive Pavilion, SIGGRAPH Labs) from the list of options.
---
Do you have more questions about submitting to SIGGRAPH 2020? Connect with program leaders directly using the form on our website or check out the Submissions FAQ.