photo by John Fujii © 2018 ACM SIGGRAPH
Hello there! My name is Mikki Rose, and I'm your SIGGRAPH 2019 Conference Chair. I'm very pleased to share some of the exciting ideas we're working on for the conference, but before we dive into that, it might help you to know a bit about me.
I first attended SIGGRAPH in 2002 as a student volunteer, a year or so into my first degree at Middle Tennessee State University. I was the definition of green, with no inkling of what to expect or any confidence that I would one day have an actual career in computer graphics. I came to SIGGRAPH and was immediately exposed to some of our industry's greatest minds. In the free moments I had, I attended every talk and session that seemed remotely related to what I was interested in. Most of them were well over my head, but I sat there and absorbed everything. I was in awe of the opportunities, experiences, mentors, and friends that this conference offered.
I credit SIGGRAPH not only with my professional success (I currently work in visual effects and on animated feature films at Blue Sky Studios), but also with the rich network of peers that I rely on in that work, my continuing education in computer graphics and interactive techniques, and the opportunity to reunite with my community and become inspired all over again — each year I attend. I've never forgotten that overwhelming sense of welcome, belonging, and inspiration that my young student-self felt at her first SIGGRAPH. That feeling is exactly what I want to evoke for every single SIGGRAPH 2019 attendee.
Here's how we're going to do it:
SIGGRAPH has long been considered the premier computer graphics and interactive techniques conference, and in its 46th iteration you can expect no less! We continue to gather innovators to present you with the latest and greatest in animation and visual effects, virtual and mixed reality, artificial intelligence and machine learning, and much more. Our reputation speaks for itself, but I hope you'll come experience it in person.
I've done a lot of informal polling of SIGGRAPH attendees, and when I ask why they come to the conference each year, the answer is almost always "community." To me, this means we're definitely doing something right. Why else would we bring thousands of people together each summer if not to interact with and support one another? There is something unique to learning about new methods, techniques, and technologies among your peers (rather than sitting in a cubicle watching a tutorial on your own). We understand that the relationships our attendees build at the conference are akin to family, which is why I want SIGGRAPH 2019 to embrace that community. All-in-all, my vision for the conference falls into three main buckets: Community, Sustainability, and Spectacle.
Community
We are actively working towards creating a more diverse and inclusive future for SIGGRAPH and are very open to ideas on how we can improve. (Have an idea? Share it here.) In 2018, the ACM SIGGRAPH organization launched its Diversity and Inclusion Committee, headed by Tony Baylis of Lawrence Livermore National Laboratory, to focus specifically on this issue. And, Vancouver hosted the first ACM SIGGRAPH Diversity and Inclusion Summit, a workshop we plan to continue in 2019 and hopefully for years to come. The workshop serves as an opportunity to come together as invested members of a community and brainstorm ways to make our industry equally inviting and supportive to all, as well as actively recruit members from underrepresented areas.
Personally, I believe focusing on the next generation is our best chance to fix the current imbalance, which is why my committee is actively working on ways to include the younger generations. In particular, we plan to focus on bringing those in elementary and middle school to the conference in an attempt to generate and maintain interest in Science, Technology, Engineering, Art, and Mathematics (STEAM) subjects. We are considering volunteer outreach prior to the conference, children's programs during the conference week, collaboration with groups like Girls Who Code and Nick Nice, and anything else we can think of to get — and keep! — kids interested in SIGGRAPH-related studies. As those younger attendees develop, we aim to keep them involved through high school and college with initiatives such as the Pioneer Mentoring Program, Student Volunteer Program, and SIGGRAPH Student Services.
Sustainability
As we continue to build an open and welcoming environment for our community, we further guarantee the future of computer graphics and interactive techniques professions. My team is pushing to identify new and developing topics and incorporate them into our wheelhouse. Several years ago, SIGGRAPH identified immersive realities as an up-and-coming area. Now, we have programs such as Virtual, Augmented and Mixed Reality and the Computer Animation Festival's VR Theater which focus on those areas exclusively. Likewise, we are looking ahead to artificial intelligence, machine learning, advances in themed entertainment, autonomous automobiles, healthcare applications, and so much more.
One area I am particularly excited to explore during SIGGRAPH 2019 is our newly added focus on Adaptive Technology. We hope to highlight technology that has been developed or repurposed to assist humans with disabilities. There are amazing things being done with VR/AR/MR training and therapy, robotic replacements and enhancements, communication assistance, and other astounding applications. We want to show how technology can be used to help people and inspire further development in these areas to lessen the stigma associated with disability. Everyone has the right to tell their story, and, with the help of adaptive technology, this is more possible than ever before.
Finally, we at SIGGRAPH are also interested in becoming better global citizens and doing our best to reduce any negative impact on the environment. For that reason, the final aspect of sustainability is finding ways to reduce waste at the conference — be it fewer single-use plastics, using recycled printing materials, reducing the number of paper prints, encouraging recycling, and so on. The California EPA recently recognized the Los Angeles Convention Center (LACC) for making great strides in conserving and protecting natural resources, with features such as a "cool roof," light defusing windows, water-efficient dishwashers, and drought-tolerant landscaping. We are pleased to partner with the LACC to put on a green and waste-conscious conference.
Spectacle
The final point of my vision is spectacle! SIGGRAPH is held in high esteem for its quality content geared at both students and professionals, and rightfully so. Humans learn best when material is presented in a vivid and stimulating way, so I believe there is a place for fun that will make 2019 as entertaining as it is educational. I want there to be surprises around every corner and something unique for everyone. With any luck, there will be at least one detail that stands out in the minds of all who attend, causing each to look back years from now and revel at that cool thing they first saw at SIGGRAPH 2019. When our attendees return to school or work following the conference, they should have no problem describing the thrilling experience to friends and justifying the time off work to their employers.
SIGGRAPH 2019 will be one of a kind, but you'll have to be there to experience it. I hope you join us in Los Angeles, 28 July–1 August 2019. See you there!
mtfbwu,
Mikki
---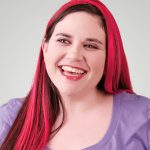 Mikki Rose is a Senior Fur Technical Director at Blue Sky Studios, with experience in grooming fur, hair, feathers, and environment assets as well as hair rigging and simulation for cloth, hair, and supplemental character assets. Her undergraduate studies at Middle Tennessee State University include Bachelor of Science Degrees in Computer Science and Mass Communication with a Digital Animation Concentration and an Art minor, and her graduate studies culminated in a Master of Fine Arts in Digital Production Arts from Clemson University. Prior to Blue Sky Studios she experienced visual effects in the Los Angeles area, spending several years at both Rhythm & Hues Studios and Sony Pictures Imageworks. Mikki's volunteer SIGGRAPH career began in 2002 as a Student Volunteer and has continued on ever since, including the opportunities to chair the Student Volunteer Program in 2012, the Computer Animation Festival in 2015, and Production Sessions in 2016, before being named Conference Chair for SIGGRAPH 2019. She also remains an active ACM SIGGRAPH Chapter member, currently in the New York City chapter, as well as maintaining memberships in WIA, ASIFA, and the VES.