Image credit: Space Curvature by Inigo Quilez (iq)  https://www.shadertoy.com/view/llj3Rz
Jesse Barker, Chair of the Mobile Focus Program at SIGGRAPH 2015, shares his thoughts on what's hot in mobile at this year's conference and why the Shadertoy competition is the perfect opportunity for shader creators to stretch their creative muscles.
SIGGRAPH 2015 (S2015): As the Chair of Mobile Focus at SIGGRAPH, what's on your top 5 things to do at SIGGRAPH in August?

Jesse Barker (JB): I'm not sure I have come up with a top-5 list this year as I have been overwhelmed with how much the Mobile focus pervades nearly every aspect of the conference.  That said, I'm really looking forward to Appy Hour, Real-Time Live!, the Electronic Theater presentation, Emerging Technologies, The Studio, and several really solid real-time graphics courses. I guess I have a top 6!
S2015: Tell us about the Shadertoy competition at SIGGRAPH and what you hope will come from it.
JB:  I am very excited about the Shadertoy competition for SIGGRAPH 2015.  The short summary is that shader creators from all over the world will have a month (the clock is already ticking) to show us their best magic.  The best – chosen by the Shadertoy guys and the Real-Time Live! committee – will be showcased at the Real-Time Live! event at SIGGRAPH on August 11.  While this competition is not specifically Mobile focused, per se, it does focus on the innovation of real-time graphics using a framework that is fundamentally Mobile-friendly; the back end of Shadertoy is WebGL, which is based upon the explicitly Mobile-focused OpenGL ES 2.0.  That is why I have championed both the competition (for advanced coders), as well as a Studio course that provides hands-on access and instruction to the Shadertoy enviroment (for more beginning to intermediate coders).  See more details on the theme and how to enter at https://www.shadertoy.com/eventsAugust2015.htm
S2015: Why should someone enter the Shadertoy competition that culminates during Real-Time Live! at SIGGRAPH?

JB: I think any passionate shader creator would jump at this opportunity to express themselves creatively, to really stretch and grow their creativity, participate in a world-wide event, and have a chance at being part of Real-Time Live! at SIGGRAPH 2015.  The submitters need not actually attend SIGGRAPH (though we hope they do, of course), and their submissions get reviewed by a jury of real-time experts as well as all of their fellow shader hackers.
S2015: In 140 characters or less, tell us what SIGGRAPH means to you.

JB: SIGGRAPH is discovery.
---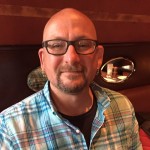 Jesse Barker is a software engineer at ARM Ltd., where he works on future real-time 3D graphics API and GPU hardware feature development.
He is a long-time SIGGRAPH attendee, and served as the SIGGRAPH Mobile Chair for the 2014 and 2015 conference committees.