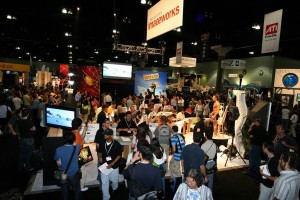 -What is your background in the industry?
I have been fortunate to be involved in SIGGRAPH since 1992. I have always been interested in seeing on the tradeshow floor today what will be available in the future. In 1992, high-definition television was demonstrated which in the last few years has become apart of everyday life.
This year I am interested in seeing the Artec booth. They develop and sell 3D scanners, also known as 3D cameras, which work in real time, and they are toboggan gonflable easy to use. Artec has a whole division dedicated to 3D face recognition technology. Biometric security, which measures physical characteristics of a person, is an emerging market. There appears to be a growing market for those interested in technology that allows for better recognition accuracy of physical features, convenience-in-use and spoof-protection.
-I understand the Exhibition attracts vendors from across the globe. How many exhibitors are expected for this year's conference?
We are expecting 175 exhibitors. Currently 51 international Exhibitors or nearly 30% of the exhibitors are from outside the United States. Countries that will be represented on the exhibit floor include Korea, Costa Rica, Colombia, India, United Kingdom, Germany, Saudi Arabia and Bulgaria.
-How do you think the Exhibition appeals to a wide variety of people? What groups can benefit from attending this venue?
SIGGRAPH does indeed attract a wide variety of attendees. The groups that appear to benefit the most are animators, artists, engineers, and game developers.

-Which target audience do you believe will be the highlight for this year's exhibition? Which ones are you most excited to see and why?The exhibitors that target animation and special effects seem to enjoy when we are in Los Angeles the most. Being in Los Angeles allows the many local studios in the area to pula pula inflavel send their employees to see the Exhibition for the day. Knowing the eyes of the top Hollywood studios will be focused on SIGGRAPH 2010 many exhibitors push their developers to have new products ready to be launched at SIGGRAPH each year. There is a lot of incentive to get in front of the SIGGRAPH audience as 20% annually spend more then $100,000 per year on products they see at the Exhibition.