Ready or Not, Here Comes SIGGRAPH!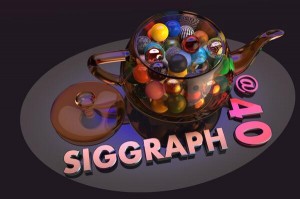 Image submitted by Massey Moto, who added: "Happy 40th Anniversary! My 20th.  My first was in Anaheim in '93 #SIGGRAPH2013 Time flys." Thanks Massey, we hope to see you at 20 more!
We're looking forward to welcoming you to Anaheim! To stay up-to-date with everything SIGGRAPH while on site, be sure to follow SIGGRAPH 2013 on Twitter (check out the conference locator on site for all the official hashtags to join the conversation), like us on Facebook and bookmark this blog for exclusive content throughout the week.
With plenty to do and see at SIGGRAPH 2013, make the most of your trip with these tips and conference highlights. Also, when outside of the conference try to remember to remove your badge and store in it a safe place.  Nothing says, "I'm not from here" like someone walking around town with a registration badge on.
Getting There

Airport Shuttle Bus Discounts
SIGGRAPH 2013 has partnered with Super Shuttle to offer gonfiabili transportation to and from John Wayne Airport (SNA) and Los Angeles International Airport (LAX).
To/From SNA
Shared Ride Van – $9 per passenger, one way (up to 9 passengers)
Town Car Service (to SNA) – $68 per sedan (up to 4 passengers)
Town Car Service (from SNA) – $75 per sedan (up to 4 passengers)
To/From LAX         
Shared Ride Van – $14 per passenger, one way (up to 9 passengers)
Town Car Service (to LAX) – $102 per sedan (up to 4 passengers)
Town Car Service (from LAX) – $108 per sedan (up to 4 passengers)
These discounted rates are valid from five days before the conference to five days after it closes.
Book by phone at 800.258.3826 (toll free) or +1.310.222.5500, extension 4. To receive the discount, you must mention the SIGGRAPH 2013 discount code: PK7AU. Or you can book online at the Super Shuttle web site. Drivers accept cash and all major credit cards for all transfers.
If you book your shuttle reservation through the SIGGRAPH 2013 web site, you earn miles on American Airlines, United Airlines, Delta, and Frontier Airlines.
Cancellations or changes bouncy castle for Shared Ride Van transfers and sedan cars made 12 hours prior to the scheduled day of transfer will not incur a cancellation fee. Cancellation or changes made within 12 hours of the scheduled day transfer, or no-show, will be charged the estimated cost that was quoted at the time of the reservation (mini-buses need 72 hours for cancellation).
All reservations are the sole responsibility of the attendee.
Metrolink: Los Angeles to Anaheim
Round-trip train service several times per day from Union Station in downtown LA to Anaheim. View the schedule and prices.
Registration Hours
When you arrive at the Anaheim Convention Center, head to the registration area in the Arena Lobby to pick up your badge. Registration hours throughout the week are as follows:
Sunday, 21 July               8 am – 6 pm
Monday, 22 July              8:30 am – 6 pm
Tuesday, 23 July             8:30 am – 6 pm
Wednesday, 24 July        8:30 am – 6 pm
Thursday, 25 July            8:30 am – 1 pm
SIGGRAPH 2013 Online Scheduler & Mobile App
Personalize your schedule, connect with insuflaveis other attendees, find sponsors and exhibitors and more with the SIGGRAPH 2013 Scheduler & Mobile App.
Download the app to your phone or tablet or use your internet browser to:
See other attendees who are coming to SIGGRAPH 2013
Review the agenda and speakers, and create a personalized schedule
Connect with other attendees by sending messages and setting up 1-on-1 meetings, while keeping your email private
Find sponsors and exhibitors and review their brochures and videos before you go
You received an email with a link to download the App. Or, visit mySIGGRAPH.zerista.com and go to Log In. To set up a personalized account, use your Registration ID as your username and your last name plus "2013" as your password:
Username: Registration ID
Password:  LastName2013 (all lowercase)
Have a question or need help with the App? Contact support@zerista.com.
Wireless Access
Free wireless access is available in most areas of the Anaheim Convention Center via the "s2013" network. The "s2013-legacy" network is also offered to support 2.4 GHz-only wireless devices.
For assistance or further information, contact the SIGGRAPH 2013 GraphicsNet team in person in Room 204C, through email at graphicsnet@siggraph.org, or on Twitter at
@GraphicsNet.
Camera/Recording Policies
No cameras or recording devices are permitted at SIGGRAPH 2013. Abuse of this policy will result in the loss of the individual's registration credentials. SIGGRAPH 2013 employees a professional photographer and reserves the right to use all photos taken on site in future conference promotions.
Age Requirement For Exhibition Access
Children under 16 are not permitted in the Exhibition. Age Verification is required.
SIGGRAPH 2013 Evening Events
Technical Papers Fast Forward
Sunday, 21 July, 6 – 8 pm
Hall A
Hear an entertaining and illuminating a summary of the new ideas presented in the SIGGRAPH 2013 Technical Papers in this rapid-fire session. The author(s) of each paper just under a minute to wow you with their results and convince you to hear their complete findings later in the week.
Computer Animation Festival: Electronic Theater
Monday, 22 July, 6 – 8 pm  |  Tuesday, 23 July, 6 – 8 pm  | Wednesday, 24 July, 6 – 8 pm
Arena
Watch some of the finest achievements in animation, visual effects, and visualization at the Computer Animation Festival, a qualifying festival of the Academy Awards. Since 1999, several works originally presented in the Computer Animation Festival have been nominated for or have received a "Best Animated Short" Academy Award.
Dessert Networking Reception – Sponsored by Walt Disney Animation Studios
Monday, 22 July, 8 – 10 pm
Arena Outdoor Plaza
Catch up with colleagues and friends from around the globe at SIGGRAPH 2013 Networking Dessert Reception. Nosh on delicious desserts and toast the past year's success.
If you didn't purchase a reception ticket with your registration, they will be available for purchase in the Registration Area in Arena Lobby at the Anaheim Convention Center.
Real-Time Live!
Tuesday, 23 July 5:30 – 7 pm
Hall A
Get inside insight from the artists, engineers, designers, and technical director who developed the complex interactive, real-time sequences from games and scientific visualizations from companies like Beautypi; Epic Games, Inc.; NVIDIA Corporation; Square Enix Co., Ltd; Unity Technologies, and others.
Cut&Paste: Characterized@SIGGRAPH
Tuesday, 23 July, 7 – 8 pm
Hall A
Cut&Paste brings the CHARACTERIZED Tour to SIGGRAPH 2013. Presented by HP, CHARACTERIZED @ SIGGRAPH is a design competition focused on character creation, technique, and intent. Three jumping castle teams throw down in rapid, live onstage rounds, revealing their digital design process and original character artistry. It's a dynamic mashup of character designers in Cut&Paste's experimental team format.
Dailies
Wednesday, 24 July, 6 – 8 pm
Room 304 A-D
Get the inside story on recent breakthroughs, frustrations and solutions directly from animators during these 90 second presentations. Peek behind the curtain at major studios
including Blizzard Entertainment, DreamWorks Animation, Naughty Dog Inc., Pixar Animation Studios, Tippett Studio and academic labs.
SIGGRAPH After Dark
Wednesday,  24 July, 8 pm – 12:30 am
Grand Plaza
Kick back with friends new and old and end your day with blockbusters "Toy Story" and "Jurassic Park" screened under the stars.
Hotels
Still need to plan your stay in Anaheim? SIGGRAPH can help. Visit the SIGGRAPH web site for some available Anaheim hotels.  Rates* at official hotels may vary from the official conference rates as the housing deadline has passed.
onPeak provides onsite hotel and travel services at a housing desk at the Anaheim Convention Center during SIGGRAPH 2013 registration hours for inquiries and requests for assistance.  You may also call them at +1.714.765.2007. On 25 July (the last day of SIGGRAPH 2013), the desk is not staffed, and requests for assistance should be directed to the telephone numbers below: 800.631.5557or +1.312.527.7300
* Please note, all hotel rates have a 17% occupancy tax as well as California State tax added to the rate.
Discounted Attraction Tickets
If you haven't already, visit the Anaheim page to purchase discounted tickets to Disneyland, Knott's Berry Farm, and Disney California Adventure.
Weather Update
With lots to do indoors and out at SIGGRAPH 2013, be sure to check the weather in Anaheim before you pack to be prepared. As the temperature may vary in some of the session rooms and may become chilly, so be sure to dress in layers.