photo by Andreas Psaltis © 2023 ACM SIGGRAPH
On Monday, 7 August, SIGGRAPH 2023 participants made their way into the West Hall of the Los Angeles Convention Center to take in this year's Electronic Theater! Monday's showing was the first of two ticketed live showings at SIGGRAPH 2023. For those joining virtually, you have the option to view the Electronic Theater from anywhere in the world, and there's still time to purchase your virtual ticket to experience excellence in animation.
Introductions and Awards
To the moon or to Mars? The Electronic Theater opened with a pre-show experience visualizing and rendering planets and galaxies. The audience voted for which planets and galaxies to explore by moving their arms in the air. Votes were tracked by the calibration of the movement. What an exciting exploratory experience to open our show!
On Monday night, the SIGGRAPH 2023 Electronic Theater Award winners were called to the stage to accept their prestigious awards. Congratulations to this year's esteemed awardees:
Best in Show — "La Diplomatie de L'éclipse"
Jury's Choice [tie] — "The Voice in the Hollow"

Miguel Ortega, half MT studios

Jury's Choice [tie] — "Overwatch: Kiriko"

Jeremiah Johnson and Dave Stephens, Blizzard Entertainment

Best Student Project – "Swing to the Moon"

Marie Bordessoule, Elisa Drique, Solenne Moreau, Adriana Bouissié, Vincent Levrero, Nadine de Boer, Chloé Lauzu, ESMA

Audience Choice — "Boom"

Gabriel Augerai, Romain Augier, Laurie Pereira De Figueiredo, Charles Di Cicco, Yannick Jacquin, Miyu Distribution
Now Into the Show
No matter what interests or hobbies you may have, there was something for you during the SIGGRAPH 2023 Electronic Theater. Right from the beginning, you could feel the energy in the air as all eyes were glued to the big screen to take in unique, ground-breaking, and inspiring animation. Whether it was a tiger listening to the radio, break-dancing robots, a look into the lore of the world of "Overwatch" or the behind-the-scenes look at the water simulations of "Avatar: The Way of Water," there was no shortage of entertainment within the Electronic Theater. The culmination of the 22 short films brought participants moments of laughter, joy, fright, cheers, and much more, but the Electronic Theater was more than just coming together to enjoy ground-breaking animation, it was coming together to reflect and admire how far computer graphics has come over the last 50 years. A truly special moment at SIGGRAPH 2023.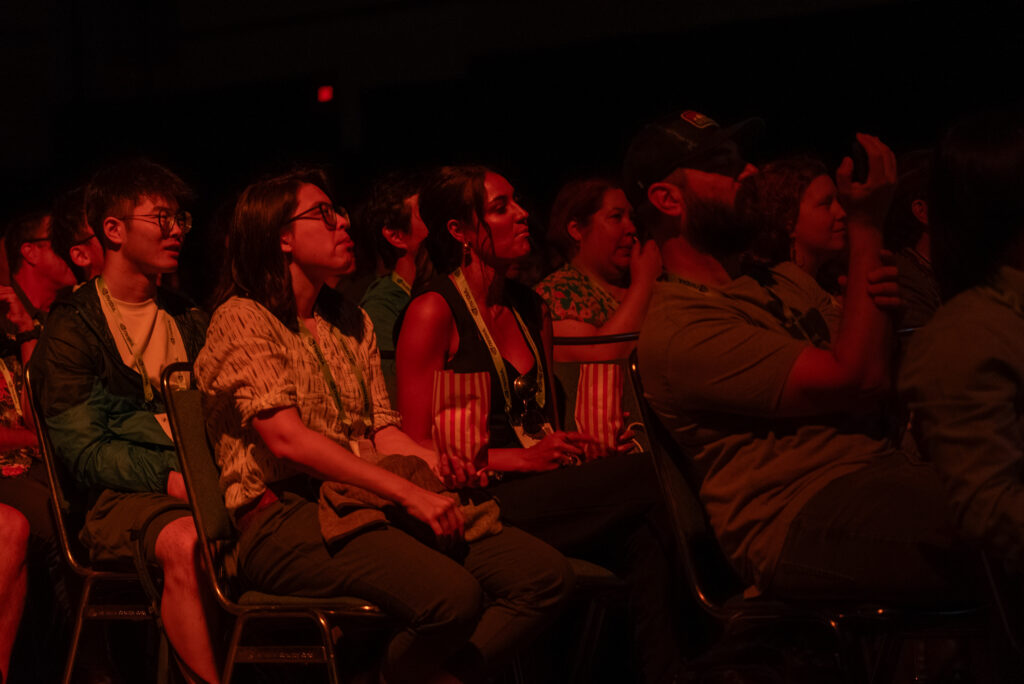 photo by Andreas Psaltis © 2023 ACM SIGGRAPH
Where Can I Watch?
There's still time to witness the show-stopping animation of the SIGGRAPH 2023 Electronic Theater! Full Conference and Full Conference Supporter registrants received a ticket to see the show on Monday or Wednesday of the live conference week. They also received a virtual ticket … check your email for access! Are you a SIGGRAPH participant or friend of SIGGRAPH who is joining us virtually? You have the option to bring the Electronic Theater directly to you by purchasing a virtual ticket.
Looking for even more Electronic Theater content? We've got you covered: