Image credit: Image courtesy of Animationsinstitut, Filmakademie Baden-Wuerttemberg
This article was sponsored by Filmakademie/FMX in support of the SIGGRAPH 2022 Student Volunteers.
There is only very little knowledge of how virtual production impacts carbon emission in comparison to traditional VFX. The research and development department at Animationsinstitut at Filmakademie Baden-Wuerttemberg rose to the challenge and compared two VFX projects in regard to their emission. Find out more about the study and its results here.
---
Imagine this: Stunning visual effects, a fantastic cinematic world — a film that is not only thrilling but also sustainably produced. As ironic as it may sound, this idea of a low-emission VFX film is currently only fiction. Travels for crew members, technical set up of a studio production, and, most importantly, offline rendering for post-production all contribute to the carbon emission of film projects. Hence, one of the biggest challenges creative industries are currently facing is the quest for sustainable production methods, as recently discussed at FMX — Film & Media Exchange.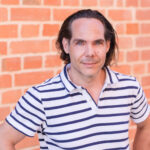 Studies such as the "Screen New Deal Report" from 2020 show that traditional film productions create up to 2,840 tons of CO2. However, there is only very little knowledge of how virtual production impacts carbon emission in comparison to traditional VFX. The research and development department at the Filmakademie Baden-Wuerttemberg (Germany), led by Prof. Volker Helzle, is currently exploring how virtual production compares to traditional offline VFX and in what way it can contribute to increasing the sustainability of VFX production. For this purpose, the team compared the student projects "Sprout" (Set Extension Workshop 19/20) and "Awakening" (Set Extension Workshop 20/21). While "Sprout" was produced with green screen and using offline rendering and post-production, "Awakening" namely used virtual production and shot with an LED wall for in-camera effects (ICVFX).
"We investigated these energy budgets mostly for ourselves to better understand if and how these new technologies can impact our energy and CO2 footprint. The findings were surprising and serve as a great entry point for discussions with our students. I am looking forward to presenting this work to the SIGGRAPH audience and their response," Helzle says.
At SIGGRAPH 2022, the R&D team of Filmakademie will present their findings. Join the team on Monday, 8 August, 9–10:30 am PDT, West Building, Room 211-214, for "Green Screens, Green Pixels, and Green Shooting Contributors."
For the entire report, please click here.
At Filmakademie Baden-Wuerttemberg, the topic of sustainability is very well received by students. Not only do they have the opportunity to use sustainable methods during their own productions, such as LED walls, but they also get to collaborate in research projects like the one described above. Especially students from the field of technical directing at Filmakademie's Animationsinstitut closely collaborate with the research and development department as part of their studies. Nonetheless, all students from the fields of animation, visual effects, animation/effects producing, and interactive media have the opportunity to apply sustainable production methods to their projects, giving them the unique chance to be part of industry changing developments while still studying at Animationsinstitut.
For more information on study opportunities, head over to Animationsinstitut's website.
Aside from their research in the field of sustainability, the R&D department is set to launch their work on the latest Extended Reality (XR) projects EMIL & MAX-R in fall of 2022. Both are part of the EU funded research program Horizon Europe and explore the potential of XR and virtual production. EMIL (European Media and Immersion Lan) will found a dedicated European XR Lab with substantial funding opportunities for third-party projects. MAX-R will development of new modular tools, components, and/or services addressing XR media applications.
Reference
albert, 2020. Screen New Deal. [online]. [Accessed 02/02/2022]. Available from: https://bit.ly/3GkyKoe