© Julius Dobos
Technology has taken over, influencing almost every aspect of our daily lives, but what happens when tech clashes with the arts? We create new music genres, dance styles, and ways to enjoy performances, which is exactly what you'll experience listening to the SIGGRAPH 2019 Theme Music.
Julius Dobos, composer of the SIGGRAPH 2017 Theme Music (which you can hear on each episode of our podcast, SIGGRAPH Spotlight), is back with a re-vamped audio experience for 2019. We sat down with Julius to discuss his history with SIGGRAPH, his take on the fusion of music and technology, and the inside scoop on what to expect from his performances next week!
SIGGRAPH: How did you first become acquainted with SIGGRAPH?
Julius Dobos (JD): I specialize in music composition and production and have been working on the audio side of the creative industries for quite some time. Naturally, I had heard of SIGGRAPH over the years, but my first visit didn't occur until 2017. Although I do have a large interest in the culture of visual arts and expressive technologies, I also had other great reasons to attend.
Jerome Solomon, [Conference] Chair of SIGGRAPH 2017 and close colleague and friend of mine, is the Dean of Education at Cogswell College in the San Francisco Bay Area, where I also teach audio and music production courses. One day, Jerome heard a musical idea that I wrote out of pure fun and inspiration in my studio. He then invited me to compose an official theme for the conference based on this initial idea. At the conference, I gave a live performance of the theme and my forgotten future music during the Technical Papers Fast Forward session:
I was also able to witness my students winning several awards for some cool, 3D animation work they produced for the SIGNOW video series in our project-based class.
So, my first SIGGRAPH experience in 2017 was a busy, high-energy, and fun live performance to 3,000 people that included great new additions from Jerome, speakers to play the theme music outside of the convention center, and a warm welcome from attendees and organizers alike.
SIGGRAPH: We're excited to have you back this year! Can you share your creative process for composing the SIGGRAPH 2019 theme music?
JD: Mikki Rose, SIGGRAPH 2019 [Conference] Chair, and I started exploring the conference theme earlier this year. She revealed the vision behind the "Thrive" theme, shared an inspiring summary of the concept with me, and we discussed the theme's relation to diversity and sustainability. This became my starting point for a narrative: a diverse group of people coming together to share and create new experiences while thriving at the intersection of digital visual arts and interactive technologies.
This concept led to the idea of bringing together a diverse set of instruments — from electronic to acoustic — to play their own melodic lines. These motifs may seem disconnected at first, but as the theme builds, and more and more of the instruments play their melodies together and create consonance. About two minutes into the theme, they reach unity that's more powerful than any of the parts could be on their own.
This theme also allowed me to incorporate the diversity that I love so much. As a long-time sound synthesist, and owner of way too many synthesizers, the concept gave me a reason to fire up a diverse set of electronic instruments from the past 45 years to create some of the musical parts. Even though I use a lot of technology in my work, I much prefer to focus on the human expressions and emotions. This expression is just as present in electronic instruments as acoustic ones, and I invite everyone to hear this organic approach in the new theme.
The 2017 Theme was quite successful, and I felt that we started something new in 2017 that could eventually become a tradition. With this in mind, I wanted to create some consistency via textures, harmony, and phrasing. As a cultural reference to this year's L.A. location, I also added the orchestral elements and huge percussion to the arrangement for extra power and expression.
SIGGRAPH: Live performances always include an element of the unknown. What can attendees expect to experience during your Opening Ceremony and Real-Time Live! performances of the theme?
JD: You're right — true live performances cannot be reproduced. The Opening Ceremony will be a performance of the theme music where I will be playing an instrument called the Continuum. The Continuum is an electronic instrument with three-dimensional control and without keys or frets, allowing for completely smooth gliding through the entire pitch range. It's extremely expressive in the studio, but is quite risky on stage since it's virtually impossible to play it perfectly; however, I find risks exciting!
The Real-Time Live! performance will also include all kinds of unpredictability. In this world premiere, we will challenge the traditional roles of performer and audience, and put the control over several musical and sonic aspects of the live performance in the audience members hands — literally. Attendees will be invited to use their smartphone flashlights to collectively influence how the performance sounds. It is a practical, live manifestation of Brian Eno's scenius concept, where the group collectively makes the decisions and no one is in full control. I call this the "Human Intelligence control," a purposely cheeky expression for a conference that showcases the latest in the visual application of AI! My great colleague Andrew Vargas has been helping me to finally bring this concept of mine to life, with the help of sensors, software, and a few computers and MIDI controllers. It will definitely be a unique experiment, and hopefully also an enjoyable one.
The Real-Time Live! performance will end with a frame-accurate live performance, synched to a video playing on the large screen. Although I'll be playing a remixed, up-beat version of the theme music here, there will still be a strong narrative relationship between visuals and music.
SIGGRAPH: How do you think technology has influenced the creation and appreciation of music in today's world? How has it influenced and shaped you as a performer?
JD: I have quite conflicting views about it. Technology is just a tool, not a purpose — whether its effects are good or bad depends on how it's used. As a performer, I value that most of my "crew" is actually software, because the virtual crew is dependable, shares my vision, and allows me to focus on my own role. I don't enjoy, however, that too much tech tends to remove beautiful human imperfections, spontaneity, and personal perspectives from the equation.
SIGGRAPH: Thank you for contributing to SIGGRAPH in this unique way. In between your performances, what unique things are you hoping to experience while at SIGGRAPH?
JD: I very much enjoy textures, both in sound and in visuals, so I'll be on the lookout for anything new in that front — maybe the visualization of real nature events using data or the virtualization of alien worlds. I'm also a fan of cosmology, and I can't wait to hear the ACM SIGGRAPH Frontiers Talk on Wednesday about how Katherine Bouman used the Event Horizon Telescope to create the image of the Black Hole in the center of our galaxy!
Make sure to catch Julius' performance of the SIGGRAPH 2019 Theme Music at the Opening Ceremony and Awards Presentation on Monday, 29 July from 9–10:30 am and during Real-Time Live! on Tuesday, 30 July (starting at 5:40 pm), both in West Hall B of the Los Angeles Convention Center. Can't make it to the conference? You can view both sessions by tuning into our livestream, available via our Facebook and YouTube channels!
---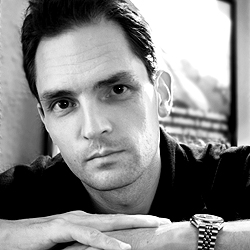 Julius Dobos, an award-winning, European-American composer, performer, and music producer, is best known for his electronic and orchestral music releases, and for his film scores and music used in motion pictures and television programs. His credits include "Don't Mess with the Zohan," "Paul Blart: Mall Cop," "The Zookeeper," and television programs such as the "DragonBall Z" series, "NCIS," and countless advertisements, as well as performances with Grammy-winning artists Erykah Badu and Martha Sebestyen. In 2009, Dobos launched his personal project, forgotten future, a psybient, epic ambient musical journey that is everything but usual, both in its cutting-edge sound design and distinct philosophical concept. "W1," the first forgotten future release became a top seller in its genre and drew fans to explore its interactive online music platform. Dobos also designs sound for installations, tests audio tools, and scores for visual media. As a distinguished professor, he builds future-proof concepts for education and teaches at Cogswell Polytechnical College of Silicon Valley.