photo by Andreas Psaltis © 2022 ACM SIGGRAPH
The VR Theater is a world-class showcase of exemplary virtual reality storytelling. For SIGGRAPH 2023, the VR Theater focuses on "becoming and belonging," pledging allyship to inclusive digital embodiment in immersive storytelling. As submissions for the program are approaching their deadline, we connected with SIGGRAPH 2023 VR Theater Director Julia Read to learn more about the vision behind this year's VR Theater, the impact of immersive storytelling, and what new VR trends are on the horizon.
SIGGRAPH: Tell us about your vision for the SIGGRAPH 2023 VR Theater. How did you identify this vision?
Julia Read (JR): "Becoming and belonging" pledges allyship to inclusive digital embodiment and its heralds and pioneers.
As our lives become more augmented, our identities are shaped by subconscious interactions within the virtual worlds we inhabit. I spend significant amounts of time in such places, looking to explore what is next for technology and humanity. The embrace of the Self, digital subcultures, creative freedom, and celebration of self-expression to be found there resonate, as do the findings that new generations often feel more like themselves online than in the real world. For SIGGRAPH to continue to be an emblem for change, and respect the inclusivity and diversity needs within immersive worlds, we must push for progressive wider representation of marginalized communities both on- and offline without compromise or assimilation. Our portals are open for everyone.
SIGGRAPH: Part of your vision involves exploring how immersive narratives can use technology and narrative for good. Can you share a favorite example of this?
JR: Due to the wealth of submissions the theater receives, it is impossible to pick a favorite, as every piece and its creative expression is totally unique. Opportunities of such "for good" narratives are manifold, and we encourage focus on subjects such as social impact and interactivity, the climate crisis and sustainability, human and animal rights, visionary medical innovations, etc. Every year, we get to tell important stories of history, identity, and transformation; individual and communal trauma; loss or grief — messages that need to be shared and experienced, to allow for them to enter the public consciousness, promote empathy and eventually inspire action. We also absolutely love to amplify stories of human imagination, curiosity, love, self-discovery, and profound understanding. We strive to offer liberation in a safe space.
SIGGRAPH: Talk about the impact of immersive storytelling. What does this medium provide over others? Why is it important?
JR: Presence is powerful, especially in a simulation. A VR experience tries to mimic the brain's model as much as possible, so no training is necessary to inhabit a virtual space. The creators we work with then meaningfully extend reality, transforming and enhancing the real world via their digital creativity and technical expertise. Their stories inspire, because they are relatable, resonate emotionally, convey important values and information, and can fundamentally change attitudes and behaviors. Immersive stories then boost this effect, by permitting participants to become a true part of these new worlds, opening their minds to receive in a perfect experiential state.
SIGGRAPH: SIGGRAPH is celebrating its 50th conference this year. What past trends in VR storytelling led us to where we are today? And, in your opinion, what are the most intriguing VR trends on the horizon?
JR: In my opinion, the general, historic perception of immersive spaces has shifted from initial skepticism and apprehension toward open anticipation and excitement. Growth of virtual production brought with it the release of a multitude of new xR products. Volumetric capture stock libraries are becoming more commonplace and accessible. Also, the kind of visionary dreaming and world building — which used to be reserved for the big players with substantial budgets — is now led by emerging, radical, and experimental creators and digital artists with access to open source tools and platforms. Live VR performances continue to collect accolades around the world, and extended reality will soon be fully integrated into the product and service cycle.
SIGGRAPH: What advice do you have for someone planning to submit to the SIGGRAPH 2023 VR Theater?
JR: They should not delay — submissions for this year close in just a few weeks. The process and form are fairly extensive, but my team is available for support throughout the entire submission process. If they have a story that needs to be told, we would love to help them share it with the world.
SIGGRAPH: What can SIGGRAPH participants expect to experience in this year's VR Theater? Any hints you can share with us at this point in time?
JR: We are currently operating in the "outreach" phase, so it is too early to know what the call might yield. My team works to raise attention to our program and strives to receive as many and as varied submissions as possible. The subcommittee then impartially reviews all contributions to ensure each piece up for consideration passes ethical and inclusivity standards, presents sufficient technical innovation, and proves to be generally suitable for our audiences before handing over to the SIGGRAPH Jury. Our show aims to provide low-barrier access to persistent shared communal virtual experiences, to broaden perspectives, entertain, educate, and empower.
SIGGRAPH: What excites you most about the VR Theater program at SIGGRAPH? What are you most looking forward to this year?
JR: Last year's conference was a blur — a networking endurance race and introvert nightmare — yet also an experience guaranteed to expand, disrupt, and reassemble synapses in wildly creative ways. There have been few moments in my life when I have felt more engaged, so I am delighted to abandon myself to the week-long creative chaos once more. L.A. will offer edgy, coastal vibes, and I am privileged to have assembled a stellar subcommittee around me, as well as the support of a powerful, dedicated organizing committee and exhibition management team, all of whom I am looking forward to witnessing in action, doing what they do best.
Submit to the SIGGRAPH 2023 VR Theater through 22 February for your chance to share your immersive storytelling with the SIGGRAPH community.
---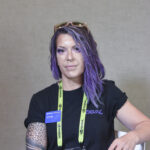 Julia Read is an experienced creative consultant and artistic producer with a strong track record of originality, innovation, and multidisciplinary thinking within digital and virtual spaces. Read has over 10 years of brand integration and creative advisory services within the global technology industry. She is focused on provided optimized, innovative, cross-platform strategy solutions for progressive immersive startups.