Photo by John Fujii © 2019 ACM SIGGRAPH
When you think of a conference, you might think of a large convention center, bustling crowds of people from all over the world, and the energy and excitement of learning new ideas. Now, picture that from the comfort of your own home. The year 2020 was anything but normal and, as we move forward in 2021, recreating a sense of normalcy might be hard … but not impossible! When it comes to the virtual SIGGRAPH 2021 conference, our committees are working hard to create the best experience, no matter the circumstance. That's where Student Volunteers (SVs) come in to help create a smooth virtual experience.
So, what's in it for the SVs this year? The benefits might surprise you!
Virtual Fun
With the conference taking place virtually, there is no travel required — you can sit comfortably at your desk while donning your favorite comfy clothes! We often consider the in-person conference a marathon for SVs and their Team Leaders (TLs). The step count is so high it tests the memory foam in your shoes. In helping run the show from home, you'll have the ability to be as comfy and cozy as possible, while still fulfilling your work and being an invaluable member of the team.
Student Volunteer Membership
Let's not forget to mention that, as a student volunteer, you'll receive a one-year, complimentary ACM Student Membership and a complimentary SIGGRAPH 2021 Ultimate Registration! With your Ultimate Registration, this allows you to enjoy the latest and greatest that SIGGRAPH and the organization's many other special interest groups have to offer.
Access to the Conference
When downtime strikes between shifts as a student volunteer, this benefit comes in handy. Due to your valued role, you'll be given access to all of the on-demand conference content. Unlike when in-person, you won't have to miss out on sessions due to scheduling, which means SVs now have more access to the conference than ever before. Consider it a reward for all of your hard work. As a bonus, conference participants can access on-demand content for up to two months after the conference!
S3R3 Portfolio and Reel Review
S3R3 is a fantastic program that is available to SVs. Make sure your reel and/or résumé is primed and ready to receive professional feedback that might just help you land your dream job. S3R3 review sessions are offered on a first-come, first-served basis and space is limited. The program would not be possible if it weren't for SIGGRAPH's Early Career Development Committee (formerly S3). And don't forget to watch for the S3 Discord Channel, which students will be invited to in the near future.  For more in-depth information on this program, check out "Spotlight on SIGGRAPH: S3 Provides the Tools for Success" from 2014.
Networking Opportunities
Who doesn't love getting to know their peers and connecting over the latest and greatest in science, technology, and art? SVs are able to utilize the Student Volunteer Subcommittee's Discord channel, among other networking platforms, to connect with one another during and after their shifts. We know that it might not be the same as in-person communication, but we promise you'll still feel the same connection that is sure to spark meaningful relationships. You never know who or when a fellow student volunteer might help you in your career down the road.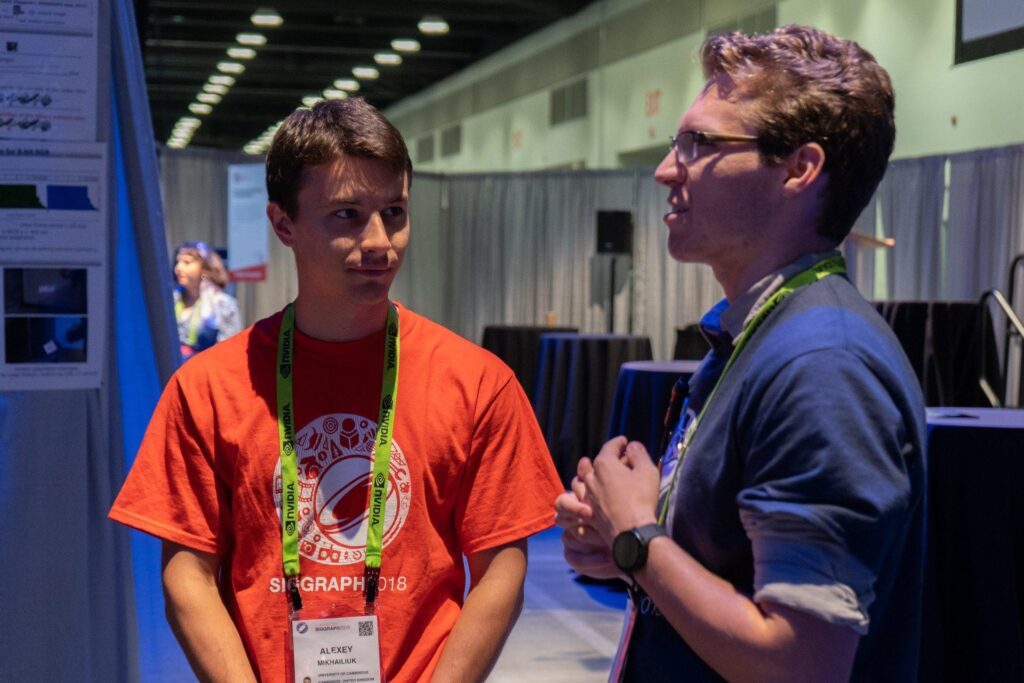 Student Volunteer Special Sessions and Surprises
Thanks to the conference's incredible sponsors, student volunteers have special and exclusive sessions during which you'll hear from top professionals in animation, games, and more — perhaps even some former SVs — on tips, tricks, and job opportunities. As for surprises, you'll just have to take a chance by submitting an application to find out! From special guests to prizes, we always have something fun up our sleeves for hard-working SVs.
If we had a mic, we'd drop it … from a distance, of course.
So, what are you waiting for? Apply to be an SIGGRAPH 2021 student volunteer today and join our incredible community here. The deadline for applications is 5 March 2021.