Copyright: Courtney Starrett, 2019 Image: Courtney Starrett
In SIGGRAPH Labs, participants don't just listen to ideas … they're presented with an opportunity to get their hands on new technologies and to experience new ways of thinking. Formerly the Studio, SIGGRAPH 2020 marks both the first year this program shifts to become SIGGRAPH Labs and its first virtual installment. Today, we're sitting down with the lecturers of 2020's "//makeMeaning: Designing Objects With a Data Materialization Workflow", Courtney Starrett (associate professor, Texas A&M University) and Susan Reiser (SIGGRAPH 2020 Courses Chair; senior lecturer, UNC Asheville). Discover more about their workshop and how you can expect to get "hands on" virtually.
SIGGRAPH: Talk a bit about the process for developing your hands-on SIGGRAPH Labs course for SIGGRAPH 2020. What inspired the session? How did you adjust when you found out it'd be virtual?
Courtney Starrett (CS) and Susan Reiser (SR): The workshop emerged out of our collaboration and the development of our data materialization workflow, which we started using in our work in 2015. We had the opportunity to present it as a workshop at the Savannah College of Art and Design in 2015, and have shared it with various student groups we have worked with since. After our paper, which introduced the workflow applied to the Modern Dowry Teapot, was part of SIGGRAPH 2018 and published in Leonardo, it felt like the next step would be to present the workflow to a larger audience — like SIGGRAPH!
The switch to virtual has forced some adjustments. The biggest change is that we don't have access to the digital fabrication technologies that are typically present during SIGGRAPH. Our workshop participants will still be making objects but they will remain virtual, with the potential of production through a local maker space or service bureau.
SIGGRAPH: Let's get technical. How did you develop the workshop in terms of execution?
CS and SR: The workshop is organized similarly to how we would present it at an in-person SIGGRAPH: We will talk about the workflow, showing examples and illustrating the art and design principles we apply, then we'll present some demonstrations on the steps of the workflow while participants follow along with time provided to work on their designs. We will have several breakout rooms for technical and design support while we are working. At the end of the workshop, we hope that all participants have a (virtual) artifact, in the form of a printable file, created with our workflow.
SIGGRAPH: What do you find most exciting about the final workshop you are presenting?
CS and SR: We can't wait to share our workflow with the SIGGRAPH audience at the first-ever virtual SIGGRAPH. We're optimistic it will be both insightful and fun! We have three really amazing students from Vassar College (Nick Weiner and Mike Jaklitsch) and Texas A&M (Leila El Dana) who will help out with the breakout rooms. We are just so excited for showtime!!!
SIGGRAPH: Share your all-time favorite SIGGRAPH memory.
CS: My first SIGGRAPH was 2007. As an artist with a background in traditional craft materials, I have always been in awe of the breadth and scope of the conference. I studied CAD and digital-fabrication technologies in graduate school, and have always appreciated the amazing emergent technology and creativity and innovation on display at the conference each year. In 2008, I was so excited and inspired by the Art Gallery exhibition, the "Design and Computation" theme spoke to me. I related to the work and realized that I wasn't just an interloper at SIGGRAPH, but had a place here in this community. When my work was accepted in 2018 I was so incredibly excited and honored to be a contributing member. The teapot was a very meaningful and personal piece and the inclusion of it in SIGGRAPH was a really big deal for me. I just love the SIGGRAPH family and am thrilled to be part of it.
SR: Like Courtney, I'm thrilled to be part of SIGGRAPH. I owe so much to the SIGGRAPH community. The first paper I published, back in 1988, was inspired by a SIGGRAPH technical paper ("Marching cubes: A high resolution 3D surface construction algorithm", by William E. Lorensen and Harvey E. Cline, SIGGRAPH '87). At that time I was writing graphics applications for an electrophysiology lab. Over the years, my interests and jobs have changed, first to teaching computer graphics and now to 3D design and fabrication. But, I continue to be inspired by and to learn from SIGGRAPH conferences, publications, and, most importantly, the members of its community.
SIGGRAPH: What advice do you have for someone looking to teach a course or workshop at a future SIGGRAPH conference?
CS: When I was chair of the Studio in 2014 I was looking for hands-on workshops that walked participants through a process … and wanted to provide a broad spectrum of creative applications to emerging and existing digital tools and software at all levels, from introductory to advanced!
SR: As Courses Chair this year, my objectives are similar [to Courtney's]. We want courses relevant to attendees: that span the broad field of interactive computer graphics, that are pitched at all experience levels, and that appeal to attendees from both industry and education.
If you have a skill you are willing to share with people, creating a SIGGRAPH course or lab is a great way to introduce yourself and your work to the community. And here's a tip: When proposing your course, make sure to consider and clearly convey your objectives. What do you want the participants to get out of your session?
SIGGRAPH Labs are open to SIGGRAPH 2020 Ultimate and Enhanced attendees. Don't miss this session on Thursday, 27 August at 9 am PDT! Register today.
---
Courtney Starrett is an associate professor in the Department of Visualization at Texas A&M University and co-owner of Plural Studios. She has previously been on faculty at Seton Hall University and Winthrop University, Kendall College of Art and Design, and was a visiting lecturer at SUNY New Paltz. She has presented her creative works and writings internationally. Her work is included in the permanent collection at the Museum of Contemporary Craft in Portland, OR and the Mint Museum Craft+Design in Charlotte, NC. Starrett's creative works have been published in Leonardo, Metalsmith Magazine, How Design Magazine, Taiwan Craft Magazine, Art Jewelry Magazine, Cast: Art and Objects, two of the Lark Books 500 series, and was featured on the cover of the August 2008 Metalsmith Magazine's Exhibition in Print. Starrett has volunteered for SIGGRAPH conferences for over a decade, most recently serving as the chair of Emerging Technologies in 2019 and the (former) Studio in 2014.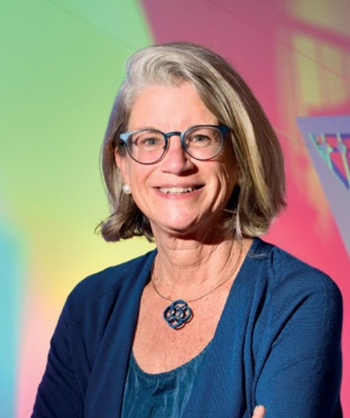 Susan Reiser is a senior lecturer at UNC Asheville where she teaches in the departments of computer science, new media and mechatronics. She also serves as senior advisor to the Provost and is a collaborative co-founder of STEAM Studio, a 12,000-square-foot making place. Last year she took a one-year leave of absence to teach computer science at Vassar College. Her research publications are in the areas of user-centered design, civic-engaged learning, and tangible computing. Her exciting collaboration with Courtney Starrett has resulted in several exhibits; and she was also part of the STEAM Studio team that, under the art direction of Mel Chin, designed and fabricated Jenny Lind, an animatronic sculpture for Times Square. She has volunteered for SIGGRAPH conferences for many years and is this year's Courses chair.