Screen capture of the "Tahul" experience created for the SIGGRAPH 2020 VR Theater.
How SCAD Students Shaped the SIGGRAPH 2020 VR Theater Experience
Introduction
Historically, the VR Theater at SIGGRAPH has been a solo, interactive experience during which attendees wait in darkness between each VR project. "In 2018, the VR Theater introduced the concept of a virtual lobby where the VR experiences launched at the same time. Participants could now experience a particle ocean before, during, and after each project," explains Monica Cappiello, SIGGRAPH 2020 VR Theater Director. "This has naturally evolved to what the VR Theater is today. For 2020, we envisioned all participants being able to take part in an interactive, mystical lobby. To play in an immersive world where your actions change the environment around you."
In order to realize this vision, this year's VR Theater subcommittee set out to create a unique, custom, tailored lobby environment that would serve as an entrypoint to the seated program. The goal was for the lobby to build off of the conference theme, Think Beyond, and to play an important role in tying together the individual accepted pieces into a cohesive experience. However, from the beginning it was clear that such an ambitious goal would not be feasible without recruiting a team of talented individuals to the cause. Fortunately, the VR Theater subcommittee was able to enlist the help of a team of highly talented students from the Savannah College of Art and Design (SCAD) to bring the SIGGRAPH 2020 VR Theater lobby experience to life. As Monica attests, "SCAD has taken up the challenge and created a VR Theater experience that you will never forget."
This series of articles provides a sneak peek at the final outcome of the 2020 VR Theater lobby experience. Though the conference's shift to virtual will mean that the way participants engage with the VR Theater is reimagined, we're excited to preview the journey it took to create and complete this project. Today, in part one, we will focus on the experience and the team behind it. For part two, we will delve deeper into the background and creative process.
The content in this article has been compiled from conversations and interviews with key members of the team, along with excerpts from documentation created throughout the project. All credit goes to the SCAD students who worked on each respective part of the project (see section "The Team" for a full listing).
The Experience
For the participants of this year's VR Theater, the team created a fully fleshed out world, with an overarching narrative and wove in ample opportunities to playfully interact and explore.
"Tahul", meaning transformation and change, is a VR experience where the player is granted control over their environment through the use of a mystical device. "The player finds themselves inside a vast, barren desert at first," explains Marina Harrison, SCAD student and project team lead. "Only after encountering the friendly genie, who guides them to this ancient, forgotten world, does the player start to discover that they can manipulate the world around them and create something new with the power of the device."
Transported through a fantastical interpretation of Morocco, players soon find themselves at the top of a minaret tower, overlooking a vast environment that is complete with a terrain full of Moroccan landmarks; towers, architectural structures, terraces, and rock formations.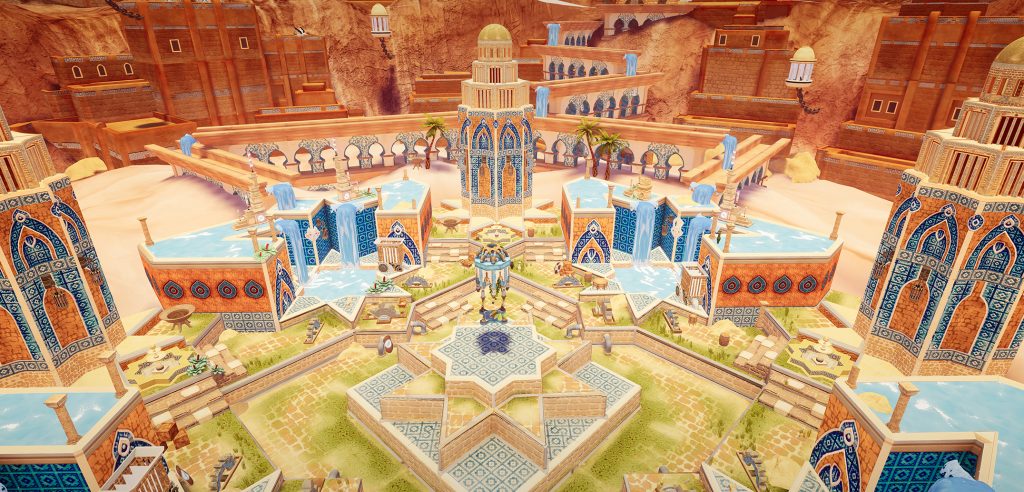 As the mystical device holds power over this world, events occur that create change in the environment. If the user desires to take some measure of control, they are then also able to wield power over the "design" of the scene before them, and to potentially create reactions through the use of the elements.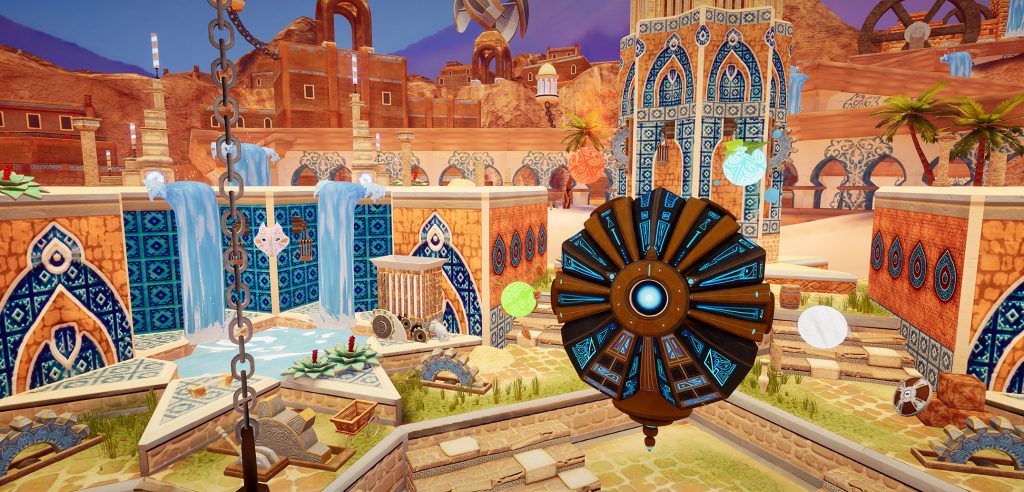 The entire environment was carefully crafted to set the mood and to prepare the stage for the main VR Theater attractions, the accepted selections. Each individual elements was deliberately designed to simultaneously entertain experienced VR users, while at the same time introducing and teaching novices the basic skills required to navigate and control VR environments.
This aspect of unique and individual experiences is also highlighted by SCAD Student and Project Team Lead Abby Johnson, who shared, "The really great part of this whole experience is that it's what you make of it." She elaborates further, "You can try to find each interaction, you can fully discover what one interaction can do, or you can just enjoy the scenic Moroccan landscape. The transformation of the 'Tahul' space is entirely unique to each person."
The really great part of this whole experience is that it's what you make of it.
Although the explicit exposition is sparse, there is a lot to discover in this magical world for avid attendees, along with a few easter eggs that SIGGRAPH conference veterans will certainly enjoy. As Anthony "Tony" Dillo, another team lead on the project, notes, "When you really pay attention to the environment, there are hints to how this ancient civilization used to live. […] I am a big fan of environmental storytelling, no matter how subtle."
The Team
This work results from the combined efforts of many talented and dedicated individuals. This section aims to acknowledge everyone's contributions, as well as provide the reader with a sense of the project scope and resources dedicated to it.
The bridge between the SIGGRAPH 2020 VR Theater and SCAD was SuAnne Fu, SIGGRAPH 2020 VR Theater subcommittee member and chair of interactive design and game development at SCAD. With this initial connection, it was possible to bring on board Professor Aram Cookson and Professor Manuel Prada, who subsequently led the charge at SCAD, working directly to recruit and supervise the students over the course of the project.
With the basis for the collaboration established, a wide range of SCAD students were encouraged to apply. Among the many applicants, 19 students were selected through a stringent interview process. Great attention was placed on selecting a highly motivated group with a balanced and complementary skillset. Particular consideration was given to students that had previously demonstrated their ability to collaborate effectively in teams.
Ultimately, nothing would have been possible without the extraordinary team of students that executed the work. Among these students, three acted as team leads: Anthony Dillo, Marina Harrison, and Abby Johnson. Together, they coordinated a total of 16 specialists, namely Alex Brookins, Alexander Pompei, Christian Del Castillo-Allan, Christopher Griffin, Dixon Dubow, Erika Flusin, Jafet Acevedo, Jake Adams, Jordan Mole, Jimmy Shoemaker, Kaushik Padmanabhan, Luciano Ferraz Gatto, Sean Graefen, Will Cao, Wyatt Posner, and Ziming Wang. These specialists worked on all aspects of a fully fledged VR experience, from concept art and 3D modeling to coding and optimization. At different stages of the project, the student group was split into smaller teams to develop competing proposals and explore multiple alternative options. In part two, we will look closer at individual responsibilities, how the work tied into the students' curriculum, and the different phases of the project.
The SIGGRAPH 2020 VR Theater subcommittee consists of Brian Beams, Carlos Diaz-Padron, Daniel Filonik (me), John Gwinner, Jules Kenville, and SuAnne Fu, who, along with program director Monica Cappiello, provided valuable input and guidance throughout the project. In particular, this project could not have been attempted if it were not for the vision and dedication required to make the collaboration happen, which was championed by both Monica and SuAnne.
Conclusion
This concludes part one, I'll be back for part two to share the origins and background of the project, detailing more about how it came to be and how it was situated in an educational setting. For those interested in the process of VR content creation, I will also share some insight into the design and development process. Thank you for reading!
---
Daniel Filonik is a postdoctoral fellow in high performance visualization at the EPICentre, University of New South Wales (UNSW) Art and Design, Sydney, Australia. His research interests are in information visualization, computer graphics, and human-computer interaction. In particular, his current work focuses on developing natural interfaces for interactive data exploration in immersive environments.