(centered, on bottom) King Trollex (Anthony Ramos) in DreamWorks Animation's "Trolls World Tour," directed by Walt Dohrn. // Photo Credit: DreamWorks Animation LLC
"Trolls World Tour" has taken homes worldwide by storm with its celebration of differences through music. We sat down with Director Walt Dohrn, Co-director David P. Smith, and Visual Effects Supervisor Matt Baer to learn how the colors, fabrics, and textures in the new worlds of "Trolls World Tour" came together.
SIGGRAPH: Creating a feature film requires a great deal of collaboration. How many total employees actually worked on the film?
Walt Dohrn (WD): I don't know the exact number of artists on the movie but it was a massive production with hundreds of DreamWorks employees, including everyone from painters to animators to scrapbook experts and everything in between — including many writers, musicians, and reference dancers/actors outside of the studio. As director of the movie, it was my (honored) responsibility to keep the entire crew continually informed of the bigger picture and the overall narrative arc, intent, and tone of the movie during the three years of production.
David Smith (DS): As co-director of "Trolls World Tour", I collaborated with the entire team, which was made up of hundreds and hundreds of artists, technicians, production management, musicians, actors, lawyers, executives, assistants, and more. You name it, they worked on "Trolls World Tour"! Everyone's voice was and is important to us because creating a team based on trust, skill, and inspiration can only make a movie better!
SIGGRAPH: Share the shot or scene in "Trolls World Tour" that you are most proud of and why.
WD: I am proud of the scope, scale, and inventiveness of the entire film the crew managed to execute. BUT, if pressed, I would pick the last 15 minutes of the movie — the entire "Act 3" concert sequence that takes place in [character] Queen Barb's hard-rock arena. From the scale of the arena and the variety of beautiful and surprising effects to the lush, painterly lighting, this whole section of the film truly illustrated the crew's passion and commitment for the project. I always thought it would be hard to top the first movie leading up to this point, but everyone pushed themselves and this whole sequence beyond expectations.
DS: My favorite shot in the entire movie is a shot in the "Smooth Jazz Attacks" sequence [at minute 4:39 below]. There was a shot where we used a live-action person serving grape juice to Poppy. The reason why it's my favorite is because I AM THAT PERSON! Because I am now becoming a movie star, it was difficult to get through the live-action shoot thanks to all of the autograph hounds. [Jokingly] I could barely eat my lunch in peace that day. Photo ops, autographs, making personalized voicemail messages … ugh.
Matt Baer (MB): I'm not sure if I could pick a favorite! Instead, I'll focus on one of our first big creative and technical challenges — the techo concert at the start of the film. This was our underwater EDM [or, electronic dance music] sequence where the entire world comes to life.
Starting with inspiring hero-character motion, almost every shot department had a hand in animating this sequence. For example, Effects was in charge of organza bubbles, lasers, and running fiber optic patterns through the macramé environment. Our Crowds Supervisor brought inspiration from spectral analyzer waveforms, giving the ability for crowds to switch from a slow-rolling wave to a sharp set of movements when the song crescendos toward the beat drop. Character Effects could switch between naturalistic hair simulations to more graphic motion depending on the needs of each shot
— they even animated different yarn anemones to the beat! This required a ton of communication across departments. And, in the end, Lighting had to pull all of these pieces together, adding additional animation in the comp.
Each morning I would run a scrum, where leads from each department would meet and show their latest work. We encouraged each artist to bring their own ideas that could help bring our inspiring production artwork to life. New ideas would inspire others — requiring us to adapt — all the while keeping the sequence on schedule and making sure all these creative ideas fit together into a final cohesive image.
SIGGRAPH: Production Designer Kendal Cronkhite Shaindlin shared that the textures and look of the film are inspired by multiple types of fiber, and that the imagery does not have a single straight line. How much of the design for the sequel was carried over from the first film? What about the world of "Trolls World Tour" allowed you to reimagine or reinvent?
DS: I believe everyone just asked Kendal and her brilliant team to "go forth and be as thoughtful and creative and responsible as you can." It helped that there were many genres of music and the Trolls that represent those genres allowed for varied texture and fabrics to represent them.
MB: Our Trolls team developed some incredible materials (mostly felt) that became the basis for our expanded list of fabrics on "Trolls World Tour". Each music genre added a list of new and unique fabrics — and the goal was always to capture aspects of tangible materials that helped sell the small scale of our tiny trolls. To inspire the look and motion of water, our Effects team built a miniature, live-action set with an air gun to launch little blasts of organza, tinsel, and glitter. We shot both macro- and high-speed reference photography that served as great reference footage for our work on the computer. There were specific aspects to how the fabric moved at a small scale that we wanted to replicate — but at the same time needed to stylize the physics. This required us to provide effects artists with a set of tools to re-time all aspects of their simulations.
SIGGRAPH: There is a lot of fuzz in "Trolls World Tour". Talk a bit about the process of animating so many fibers and different hair textures. Was any one character or scene more challenging than others?
DS: I have been told that Pop Village is the hardest to create digitally, and that [characters] Satin and Chenille — attached by their hair — are extremely difficult. Why? Take it away, Matt Baer … !
MB: Haha. Yes, as Dave said, Trolls village was challenging! Curves are difficult to render! And, we crammed hundreds of curves into every pixel. It was also one of the first sequences to go through production, so we were still developing our workflows and strategies. Given the chance, I'm sure many of our team would all like to go back and rebuild portions of that set.
The desire to sell the small scale of our film led us down a path where we built tons and tons of curves to represent details in all of our fabrics. We built interactive curve-generation tools for skin fuzz, embroidery, hair, and more. We wanted the ability to interactively groom hundreds of thousands of fuzz blades on the characters' skin. Once the look was established, we needed easy ways to transfer this procedural geometry recipe to other characters. This is all to say that we created a lot of curves. For example, Poppy's skin had over 700,000 follicles, with each follicle comprised of about 11 cvs to mimic the flocked look we referenced in some of our tiny troll dolls (this is more than 10 times the geometry that we used on "Trolls").
This created quite the rendering challenge for us! We needed to balance both memory and render times. On the memory side, we needed to fit the majority of our render jobs into a memory bucket that allowed our farm to run in the most optimal fashion. We used instancing whenever possible, but the majority of our characters needed to support deformations of all of these curves. Our Supervising TD, Kathryn Skorpil, worked with her team to develop new pipeline tools to automatically divide up our animation and layout renders into layers and re-assemble them into a temp comp. Our lighting tools team wrote render prep tools to procedurally decimate cvs on each curve based on camera distance and level of depth of field. Because we use the same renderer (Moonray) throughout the pipeline, we were able to use these techniques in every department with memory savings of up to 80%. The lighting team was able to determine presets for the show as well as at a sequence level and per shot.
SIGGRAPH: What was the production timeline like in developing the additional five musical worlds?
WD: From the start, we were always concerned that the concept of having six completely separate worlds, all inhabited by different characters, might be too ambitious to design and build. But, our amazing crew never paused (at least to me!) for a moment. Every department worked in sync to help us achieve this goal, finding new and inventive ways to reach the finish line and knowing that this level of diversity was the whole point of the story we were trying to tell.
DS: As far as what the official "development" period was, I am not sure. In my role, I did not come onto the project until the movie was in production. All the worlds were set into the narrative by the time I arrived; however, the creative development of these worlds evolved very slowly, over the course of the entire production. Or, as long as we had to continue to develop them. Each world (genre) has its own culture and history, so every world needed intense and thoughtful research with accurate depiction, even within their humors! We all worked with authentic artists and consultants for each world. It was both very challenging and very rewarding to talk with different people about their experiences and world views.
SIGGRAPH: What was the most unpredictable effect that technology (old or new) had on "Trolls World Tour"?
DS: I really can only answer this in a personal way. One of the other great inspirations for the effects in this film was the musical "Xanadu". So, every time we talked about effects, we talked about "Xanadu" and its special look. However, no one wanted to just replicate, but be inspired by. For me, "Trolls World Tour" has a GREAT signature look inspired by things we all grew up loving!
MB: As I mentioned, we found a lot of inspiration from our small, live-action reference shoots. We were constantly buying more fabric samples and shooting reference images — always with a little troll doll standing nearby as a scale reference. Our Head of Lighting, Scott McKee, would always shoot reference using vintage lenses, which inspired us to layer in additional detail to make the images feel more tactile. At one point, our lighting team shot a bunch of lens-flare footage — pulling it all apart to make sure it worked in mono and stereo — and mixing it into our shot work during the hard rock concert.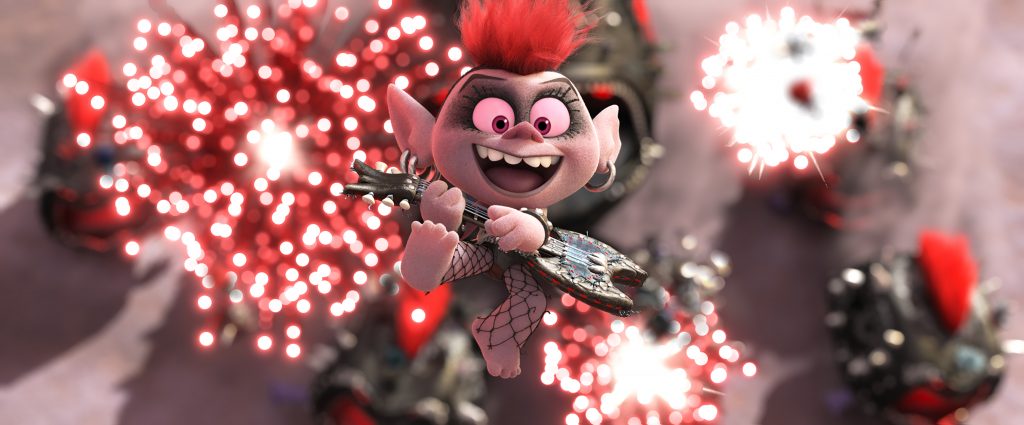 SIGGRAPH: Put simply, what excites you about your work? Where do you find your inspiration?
WD: There are so many incredible aspects of making movies — creating everyday, reaching so many people, sending positive messages into the world, but I have to say the most exciting part for me, as a director, is the opportunity to work with such a wide range of incredible artists. Every day, I get to hop from department to department — from technicians to animators to musicians and actors — and it's an honor, a thrill, and an inspiration to be surrounded by so many talented people. I feel extremely lucky to say the least.
DS: The work I was so fortunate to do on "Trolls World Tour" was exciting every day because of the team! That's what was so inspiring and exciting. It was always, "What if?" From everyone! Of course, we had limitations, but that also led to great inspiration. As far as our imaginations could go, we were able to explore.
MB: On a personal level, I love making things and sharing them. I love building and adapting teams to solve new creative and technical challenges. Inspiration always comes from people! Animation requires so much collaboration, and the goal is to build a team that feels safe to share their ideas and bring them to the table. Our directors and producers helped build an incredibly collaborative culture on this film.
SIGGRAPH: We love how global and diverse the creators/crew for this film are. Was that important to the storytelling? A conscious effort by the team?
WD: The movie is about the celebration of differences in every way, and how those differences work and flourish in harmony with each other. This, I feel, was beautifully illustrated in the crew itself. Not only in the way all of the departments worked together in such synchronicity to achieve the vast scope of this movie, but also in the crew, including the actors. We tried to represent as many cultures, backgrounds, and experiences as we could!
DS: It is always a conscious approach in building a team, especially with the themes that are present in "Trolls World Tour", but also skill, talent, and love were ingredients to see in every person to be able to all be part of a professional family of kindness, support, and inspiration!
---
Director Walt Dohrn previously served as co-director on the smash hit "Trolls" and as head of story on the hits "Mr. Peabody and Sherman" and "Shrek Forever After". A multitalented artist, Dohrn has, on many occasions, lent his voice to various characters in DreamWorks Animation films, most recently as Cloud Guy in "Trolls". In "Shrek Forever After", he made his debut as a voice performer in a leading role, bringing to life the conniving and hilarious villain Rumpelstiltskin. Perfecting the character's performance came naturally to Dohrn, as he additionally served as head of story for the film. In that capacity, Dohrn was responsible for supervising the development of the film's plot, working in close collaboration with director Mike Mitchell and supervising a team of story artists. Since joining DreamWorks Animation in 2002, Dohrn also contributed to the story of "Rise of the Guardians", "Shrek the Third", "Madagascar", "Shark Tale" and "Shrek 2". Prior to joining DreamWorks Animation, he worked as a storyboard artist and writer. His credits include the critically acclaimed audience favorites "SpongeBob Squarepants" and "Dexter's Laboratory".
David P. Smith has been working in the animation industry since 1995. He started his career as a story artist at Hanna-Barbera Studios on "Dexter's Laboratory" and "The Powerpuff Girls". In 2001, Smith joined DreamWorks Animation as a story artist on "Shrek 2" and continued to work on many of DreamWorks' features. Smith's passion for story lead to him becoming the executive producer on DreamWorks' "Mr. Peabody & Sherman Show". He continued his love for animation as the co-director on "Trolls World Tour".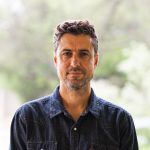 Visual Effects Supervisor Matt Baer joined DreamWorks Animation in 1999 as an effects artist (cloth) on the Academy Award©-winning film "Shrek". Prior to his work on "Trolls World Tour", Baer served as head of effects on "The Croods" and "How to Train Your Dragon". He also contributed to the short films "To: Gerard" (currently on the festival circuit) and "Bilby in the role of visual effects supervisor.