It's time for another profile of one of the many amazing jurors behind last summer's inspiring SIGGRAPH content! This week, we're showcasing SIGGRAPH 2019 Computer Animation Festival Electronic Theater Juror Jason McConnell, who shared that, "Deliberating with the jury was such an absolute blast and, as this was my first SIGGRAPH, I'm excited to make memories for years to come!" Read on to learn more about Jason.
SIGGRAPH: What is the best career advice you've ever received? Who gave it?
Jason McConnell (JM): "Hurry up and wait." We get so caught up in the thrill of the process that we sometimes forget that everyone has a million things going on themselves and that sometimes things just take time and it isn't personal!
SIGGRAPH: In your opinion, what technology doesn't get a lot of love but has greatly improved the world?
JM: Google Docs and Sheets. I love making lists and now have the ability to bother everyone else around me with my lists, too!
SIGGRAPH: What excites you most about your work? Where does your passion come from?
JM: The people. The opportunity to work with such an abundant group of diverse creatives, some of whom inspired me on my career path, makes it a gift to come into work every day and "do."
SIGGRAPH: What is one contribution you've made to the industry that has been most meaningful to you?
JM: As a young development executive I understand it's increasingly important to help foster conversations about the importance of diversity in all areas, especially creative ones, and to contribute to that conversation through my job every day is incredibly rewarding and motivating.
SIGGRAPH: What's one thing you keep at you desk that inspires you?
JM: I am a notorious collector of gadgets and gizmos galore … I love to surround myself with little mementos of movies and TV that inspire me as a reminder that my love of these things helped get me to where I am today.
SIGGRAPH: Share a resource you frequent for inspiration.
JM: I listen to to the Radiolab podcast almost every day during my commute. I treasure the way they make (sometimes very complicated) science so accessible and wondrous for everyday listeners.

---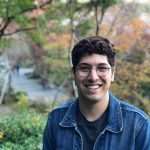 Jason McConnell is a development executive with Nickelodeon Animation working on both movies and series. He received his B.A. from Manhattanville College in New York, where he studied communications and Chinese, and spent a year living in Danyang, China after graduating. Upon moving to Los Angeles, he spent time working at United Talent Agency in the Motion Picture Literary department, before fully transitioning into animation with jobs at Warner Animation Group and DreamWorks Animation. Jason joined the Nickelodeon family in 2019 and has since worked on a variety of projects, including the "Rise of the Teenage Mutant Ninja Turtles" and "The Loud House" movies with Netflix. He is an avid fan of rock climbing, Twizzlers, MisterBubz (the angry Instagram chihuahua), and finally not feeling embarrassed about perusing the YA section of a bookstore… because it's kinda part of his job now! Jason also helped found Camp Half Blood Brooklyn, a real-life, Greek-mythology themed summer camp inspired by the fictional setting of the popular Percy Jackson & the Olympians series.