© Courtesy of Netflix

With the conclusion of another SIGGRAPH conference brings a new season — awards season. And this year, many SIGGRAPH presenters kicked off awards season with Emmy nominations. One team in particular, made up of Everett Burrell and Chris White (Weta Digital), received an Emmy nomination for Outstanding Special Visual Effects for season one of Netflix's "The Umbrella Academy." We caught up with Everett and Chris, who are hard at work on season two of the Netflix hit, to hear highlights from the show's first season and recap their SIGGRAPH 2019 Production Session, "The VFX of Netflix Series."
SIGGRAPH: "The Umbrella Academy" earned two nominations for the 2019 Emmy Awards, one of which was in the Outstanding Special Visual Effects category. What was your reaction to this nomination after the show's first season?
Everett Burrell (EB): I am very proud of the work and of the VFX team who worked so hard on season one. It is always great to get recognized by your peers in such a competitive landscape of streaming shows that are so visual effects heavy.
Chris White (CW): "The Umbrella Academy" was a highly enjoyable project. We had a fantastic team and client, beautiful designs, and a great character to work with. Receiving an Emmy nomination was the icing on the cake. We were honored to be recognized.
SIGGRAPH: "The Umbrella Academy" is an adaptation of the Dark Horse Comics series of the same name. Did you adapt scenes in VFX to stay true to the vision of the volumes, or did you take your own creative liberties?
EB: We took our main story cues from our showrunner Steve Blackman. We always had the original graphic novels around for inspiration.
CW: A bit of both. The bulk of our work was the creation of Pogo, and we referenced the comic book art when we were designing him. His final look is different from the comic, but he maintains many of the features and character traits defined in the drawings.
SIGGRAPH: This show boasts a unique cast of characters, specifically Pogo. What techniques did you use to bring Pogo to life and portray his individuality?
EB: Using traditional art techniques for early concept art and referencing great actors with iconic faces. We dug deep into his character's soul and built a rich backstory with Steve Blackman.
CW: We expressed Pogo's individuality through his design and motion. In the original concept art by Myles Teves, you could feel the sense of his character coming through. His soulful eyes, lines on his face, posture, and his clothing gave you a sense of who he was. Adam Godley, the actor who voiced Pogo, was great inspiration for his motion. Adam voiced Pogo throughout the series, and his facial movements became reference for Pogo's animation. This helped to ground and define Pogo as a unique character.
SIGGRAPH: What was the most exciting scene to produce for the show's first season?
EB: We had a scene in episode two where Number Five time jumps on the street three times in dolly backwards in a lone one shot. This had to be shot over the different seasons here in Hamilton, Ontario. We used a QTAKE to line up each shot, and Number Five (portrayed by Aidan Gallagher) had to match his performance over a period of months. The shot is seamless how it transitions from fall to summer to winter then into the apocalypse. It was exciting to see the finished product.
CW: Pogo's death was our most exciting scene in the first season. Taking place in the final episode, it required a combination of effects work, character animation, and compositing. Starting as a personal interaction between Pogo and Vanya, it quickly escalates into the destruction of the academy and the death of Pogo.
SIGGRAPH: Let's talk about your Production Session, "The VFX of Netflix Series," from SIGGRAPH 2019. We spoke before it happened, so tell us: How did it go? What are some key highlights about "The Umbrella Academy" that you shared with the audience?
CW: I thought the session went quite well. It was a fun experience being on the panel with other great shows. My goal with the presentation was to give the audience a look at how we approached the show. It contained a combination of technical and artistic approaches, research and development, and production workflows. With our aim to deliver feature film quality work on a streaming television schedule and budget, we needed to develop new approaches to these areas. One of the highlights was the development work on Pogo's wardrobe. I showcased the new procedural cloth model, which gave us detail down to the individual thread. I also showed how practical effects could be used to work through design problems and add efficiency.
SIGGRAPH: How do you expect the VFX to evolve as the show matures in its sophomore season? Do you have any big plans (or spoilers!) you can share with us in anticipation of the next season?
EB: The fans want bigger and bolder visual effects, and we plan to deliver. We are going to blow some minds with season two.
Can't get enough of VFX and Netflix? Listen to SIGGRAPH Spotlight Episode 25 – Netflix and Stream: A Look at VFX for TV and join us for more Production Sessions at SIGGRAPH 2020, 19–23 July 2020, in Washington, D.C.
---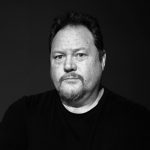 Everett Burrell has been in the film and television industry for over 33 years. He has worked in special effects, creature effects, and special visual effects all of his life. It is his passion and dream to bring amazing imagery to life on the big or small screen. With over 100 credits to his name and several awards, he is very proud to be part of this work and of the people who have helped make it happen. Everett is a member of the Motion Picture Academy, the Television Academy, and the Visual Effects Society.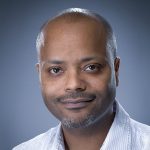 Chris White has put his 25 years of film experience to use creating compelling digital environments, characters, and effects for some of the most significant VFX films of recent times. Chris masterminded the complex Goblin Caverns environment for "The Hobbit: An Unexpected Journey" and led the creation of the photorealistic chimpanzees, orangutans, and gorillas that were the stars of "Rise of the Planet of the Apes." His work as a visual effects supervisor on "Rise of the Planet of the Apes" and "The Hobbit: An Unexpected Journey" were each nominated for both a BAFTA and an Academy Award in the visual effects categories. Chris has also received several VES Awards. His more recent credits as a visual effects supervisor include "Maze Runner: The Scorch Trials," "Valerian and the City of a Thousand Planets," "Maze Runner: The Death Cure," and the Netflix series "The Umbrella Academy." Chris is currently working on James Cameron's "Avatar" sequels and the new season of "The Umbrella Academy."