"Il Divino: Michelangelo's Sistine Ceiling in VR" © 2019 Chris Evans
Although SIGGRAPH 2019 takes place in the heart of Los Angeles, world-premiere experience "Il Divino: Michelangelo's Sistine Ceiling in VR" will place users inside the Vatican City walls. This immersive experience was created exclusively for the conference and will use the all-new Valve INDEX headset. Presenting games technology as a form of art, it gives viewers the chance to physically stand inside the Sistine Chapel, stare at its ceiling, and absorb Michelangelo's astounding work.
Hear from Chris Evans, SIGGRAPH 2019 Games Co-Chair, about his longtime passion for Michelangelo's work, how SIGGRAPH encourages the intersection of art and technology, and what he hopes participants take away from the experience.
SIGGRAPH: Describe the process of re-creating the Sistine Chapel as an immersive experience.
Chris Evans (CE): The Sistine Chapel — specifically, Michelangelo's work — is daunting. It's overwhelming on a scale you cannot imagine. For 20 years, I have had the luxury of knowing someone who studied the ceiling for over five decades, and he instilled this passion and enthusiasm in me.
Fifteen years ago I started a project to create the Sistine ceiling in 3D and make it available online for people to learn about it using Virtual Reality Modeling Language (VRML), the only portable 3D format available at the time.
The reception of "Il Gigante: Michelangelo's David in VR" at SIGGRAPH 2017 really energized me to find those old LightWave 3D assets from my university days and dust them off.
I was able to use contemporary techniques to improve on what I had, writing a Python script to feed tourist photos into RealityCapture, a great new photogrammetry software. This allowed me to alter my existing vault proportions to within about 5–10 centimeters of the real thing. The Sistine ceiling vault is a very organic and complex structure.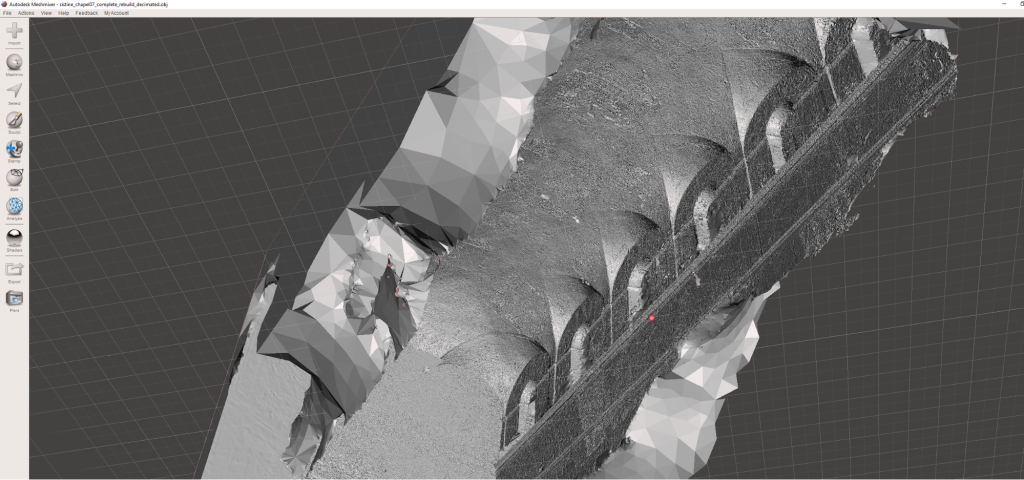 The Sistine Chapel is one of the most photographed works of art in the world, and there are many books that slavishly recreate Michelangelo's frescoes down to 1:1 scale images where you can see brush strokes. For years I have been collecting high-resolution scans and photographs of the ceiling, from high-quality books to trips to museum libraries like the Städel [Museum] in Frankfurt, Germany, or V&A in London. Being 500 years old, the work is in the public domain; because of this, the Vatican charges a premium for quality books and materials. Their latest book, containing a GigaPan survey of the vault, costs $12,000 USD. (If anyone wants to send me a copy of this, I can furnish my address!)
Since this is SIGGRAPH, I can nerd out and say that the demo you will see uses over 90 4K maps, all running live in Unreal Engine. You can see individual cracks in the plaster.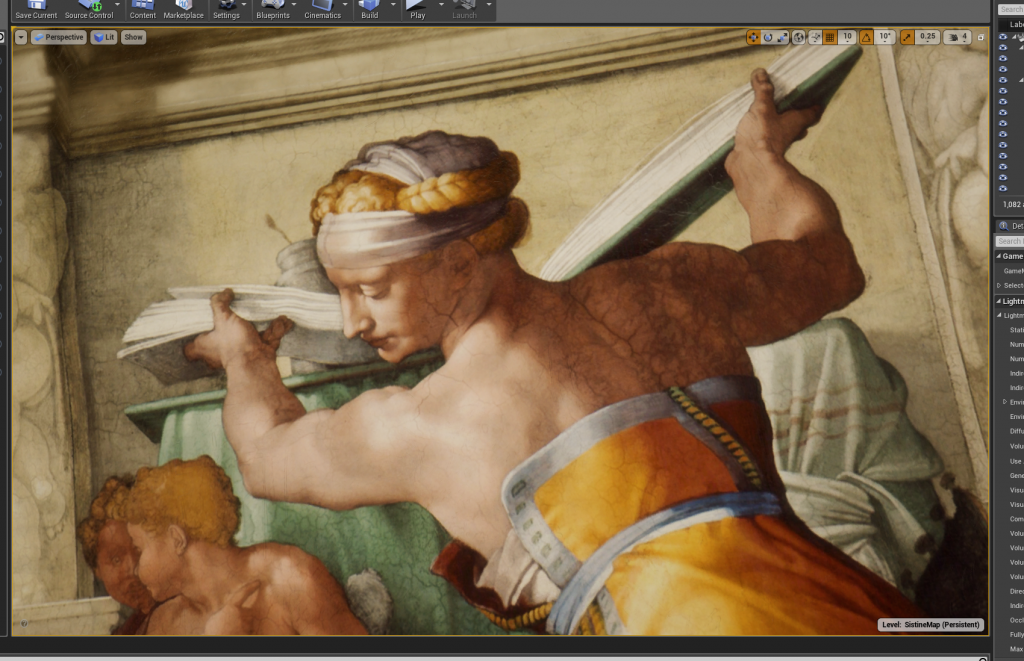 SIGGRAPH: At SIGGRAPH 2017, you presented "Il Gigante: Michelangelo's David in VR." What inspires you to bring new life to iconic pieces of art?
CE: My interest lies in Michelangelo, though I do appreciate art. The Sistine ceiling is one of the triumphs of our species, and I think it's important to get people interested in art and history.
SIGGRAPH: What do you think Vatican City's Sistine Chapel means to its visitors? How does your experience conjure that same feeling? Or, do you think your experience will evoke a different response?
CE: As I said, the experience is completely overwhelming. Michelangelo painted over 6,000 square feet of fresco with more than 300 individual figures packed into every inch. Many Vatican visitors today are checking an item off a to-do list. The Sistine Chapel is visited by an upwards of 20,000 tourists a day. When you enter, you're herded in like cattle, and guards are constantly yelling at people to not take photos. That's one of the main things people remember about their experience, it's like a running joke.
[And] that's sad — especially that [guards] yell "No photo!," because the Vatican sold the photographic rights of the ceiling to
Nippon Television
in the 1980s. How do you sell the rights to something that you don't own the copyright to? A 500-year-old work in the public domain? You yell at anyone who dares to take a photo over a loud PA system.
I hope to give people an experience where they can take their time to learn and explore the frescoes, and hear about the artist and his times. I have sat in the Chapel and read lectures by Romain Rolland or Edgar Wind, some of the greatest art historians of the last century. I hope to instill a similar feeling for SIGGRAPH attendees and to demystify some of the overwhelming chaos.
Nothing can replace the Sistine Chapel. I have created an approximation — an approximation made by someone who has pored over and researched the real thing for a very long time. This is my train set! It's my hobby. But it's still an approximation. I hope it inspires people to visit Rome and see it in real life.
SIGGRAPH: How do you envision viewers interacting with your Sistine Chapel experience?
CE: With "Il Gigante," I created a scaffold that attendees could ride right up and look David in the eyes. They could click different parts of the statue and learn about them; they could get close enough to see the individual chisel marks. I wanted to extend this to the Sistine ceiling experience. In all, you can click over 50 different items and hear about them, all of this after taking an initial, five-minute guided tour to learn about the artist and the context of the work.
Attendees can ride an aerial work platform to be closer, like a Vatican conservator, or climb up to a re-creation of Michelangelo's wooden scaffold and learn how he painted the ceiling from inches away.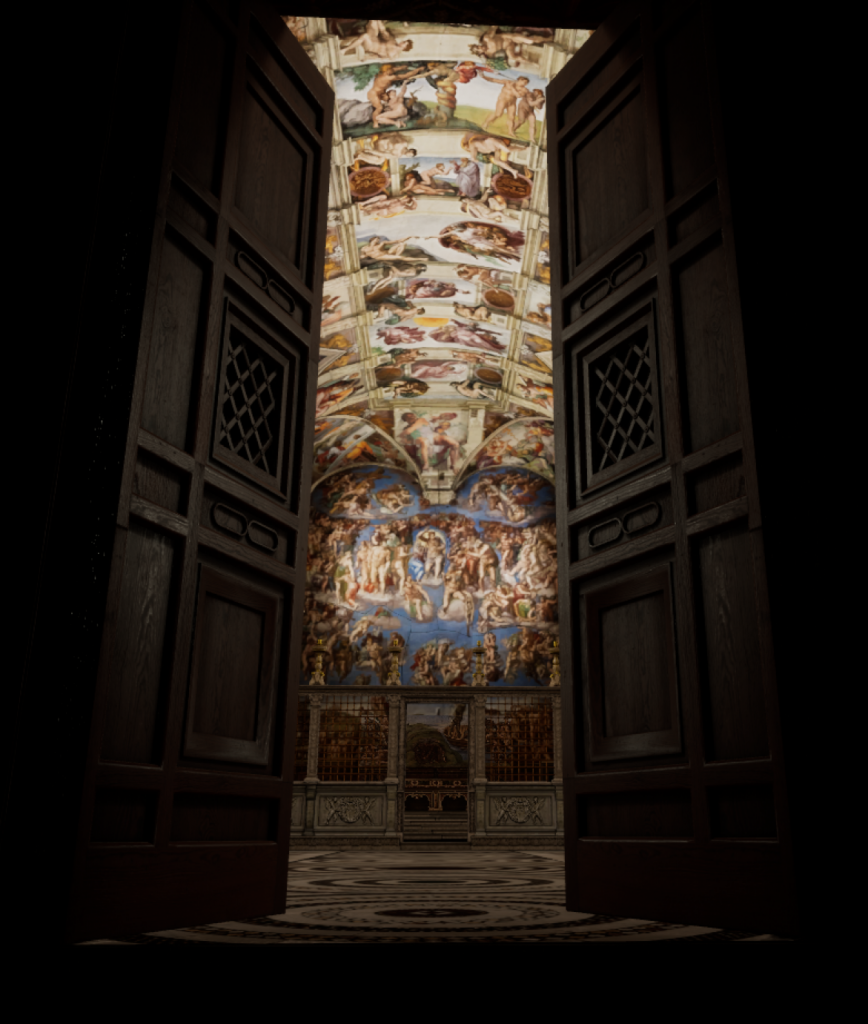 SIGGRAPH: Did you add any personal touches to your re-creation of the Sistine Chapel, or is it true to form? If you added your own flair to it, tell us why. If you did not, share why not.
CE: It is as true to form as time has allowed me over the years. There are some things that people just don't take photos of or write about. When we're talking about the most famous ceiling in the world, how many people really take measured photographs of the floor?
Paul Huston, a colleague from my time at ILM, worked with me on the project this year and I joke with him that from the windows down, I only really need it to be plausible. There are some popes under the windows I actually call the "plausible popes," because no one takes photos of them. My focus has always been on the ceiling, sometimes at the detriment of everything else, so it's been great to have Paul helping me out. I've actually known Paul longer than I've known Michelangelo, and he's been a great mentor over the years.
SIGGRAPH: Can you share a bit about the Valve INDEX headset that will be used to view the experience? What is unique about it?
CE: In a word: Resolution. The screen and optics are just leaps and bounds better than anything else. It's been unnerving to work on such a high-fidelity re-creation and have it appear blurry in many devices. You strain your eyes to try and resolve figures on the ceiling from 70 feet below — figures you know you should be able to see clearly.
SIGGRAPH: What inspired you to create this experience exclusively for SIGGRAPH 2019?
CE: "Il Gigante" was really well received. I was surprised to see so many people interested in learning about and experiencing something that I was passionate about, but I was unsure whether it would resonate with others.
SIGGRAPH has always perched itself at the crossroads of art and technology. We sometimes forget that. I was the SIGGRAPH 2017 Games Chair, and I pitched that as a great way to show games technology put to another use that wasn't blasting aliens. When Mikki Rose, the SIGGRAPH 2019 Conference Chair, and I discussed similar ideas, I told her that I had always wanted to re-create the Sistine Chapel in 3D, and that it would lend itself well to VR. Though I told her it would be a lot more work than the David, which relied a lot on Marc Levoy's 1999 laser scan.
In November of last year, I found out that my wife and I were going to have a baby, our first. This was the true forcing function to get this project done. Our son's due date is actually the first day of SIGGRAPH 2019! Though I won't be there physically, I will be there virtually, guiding hundreds of attendees through my approximation.
This SIGGRAPH 2019 experience is open to participants with an Experiences badge or higher. To view other Gaming & Interactive content, click here. Register for the conference, 28 July–1 August, in Los Angeles.