Photo by Jim Hagarty © 2018 ACM SIGGRAPH
SIGGRAPH 2018 concluded in Vancouver, BC, with over 16,500 attendees from around the world. Attendees hailed from Canada and 87 other countries worldwide, including the United States, China, France, Germany, Japan, Mexico, South Korea, New Zealand, and the United Kingdom. Attendees came to Vancouver to experience and interact with the latest innovations in computer graphics and interactive techniques, including the newest applications in virtual, augmented, and mixed reality, AI, and robotics. At the heart of SIGGRAPH 2018 were opportunities for all to gain hands-on experiences with new technologies; to hear experts discuss the "how-to" behind their cutting-edge film, television, game, or multimedia productions; and, to experience the merging of traditional processes with experimental, never-before-seen technologies.
During the course of the conference, close to 700 papers, courses, lectures, installations, artworks, and experiences were shared, culled from nearly 2,300 submissions from around the world. In addition, almost 1,000 speakers participated. Select sessions and events were livestreamed, generating significant social media reach with over 60K views on the ACM SIGGRAPH YouTube channel and 50K views on the SIGGRAPH Conferences Facebook page thus far.
On the conclusion of this year's event, SIGGRAPH 2018 Conference Chair Roy C. Anthony said,
"SIGGRAPH is a place where those of us in the digital arts and interactive technology arenas come to recharge our creative engines. This year's contributors delivered incredible content sure to inspire future generations working within these fields. People attend SIGGRAPH each year because they know they'll be offered a 'sneak peek' of the magic behind the curtain. SIGGRAPH is truly a global community — a network where artists, practitioners, educators, and scientists gather to infuse each other with new ideas, find stimulating sources of mentorship, and collaborate on new opportunities."

"The enthusiasm and energy demonstrated at SIGGRAPH is second to none. I saw thousands of people openly sharing new ideas and expressing their creative energy within every square foot of the Vancouver Convention Centre. This year, I leave energized, not only by the inspiration that SIGGRAPH always delivers, but to have also been able to give back to this wonderful community, which has inspired me to be inventive and to create, as well as helped me along the way in my career. These past 18 months as Conference Chair have been a true honor for me — an experience I will never forget."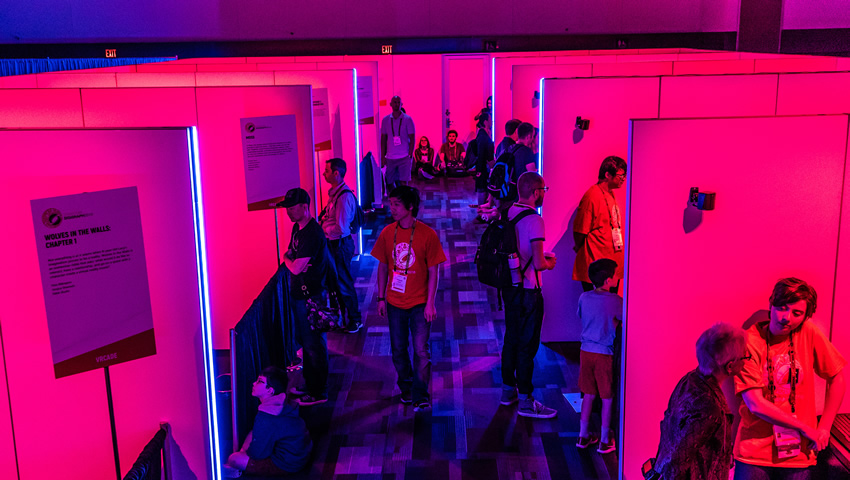 Photo by Jim Hagarty © 2018 ACM SIGGRAPH
Exhibition Hosts Top Brands, Major Announcements
The Exhibition played host to nearly 160 diverse companies on the show floor, each showcasing the latest in technologies, products, and services. Due to the remarkable increase in the amount of new technology that has debuted in the global computer graphics marketplace over this past year, nearly one quarter of this year's exhibitors presented at SIGGRAPH for the first time. Major announcements from 2018 exhibitors included the release of: NVIDIA's Quadro RTX 5000, 6000, and 8000 turing-powered GPUs; Khronos Group's VR/AR standard API, OpenXR; Vicon's Origin (VR suite); Chaos Group's V-Ray Cloud; AMD's Radeon Pro WX 8200; Sketchfab's MASSIVE; Lenovo's ThinkPad P1; and, StarVR's One VR headset.
Conference Highlights
Among this year's highlights were the keynote, a conversation on creativity by Senior Vice President, Executive Creative Director, and Head of Industrial Light & Magic Rob Bredow; two world premiere short films, Walt Disney Animation Studios's "Cycles" and Platige Image's "Miazmat"; a collection of 50 original artworks from Syd Mead, renowned futurist and visionary, on display in the Production Gallery; the return of SIGGRAPH's two-day Business Symposium; sneak peek Production Sessions on upcoming studio releases "Missing Link" (LAIKA Studios) and "Ralph Breaks the Internet: Wreck-It Ralph 2" (Walt Disney Animation Studios); and, a special session celebrating the 50-year history of the VR headset, featuring the "Father of Computer Graphics" Ivan E. Sutherland (watch via the livestream).
Attendees also enjoyed installations from around the world within the Experience Hall and the brand-new Immersive Pavilion, which featured a VR museum, Vrcade, Village, and the Computer Animation Festival VR Theater. For those who came to learn, opportunities were vast and covered the most cutting-edge technical research and applications in computer graphics and interactive techniques, including presentations on 128 technical papers.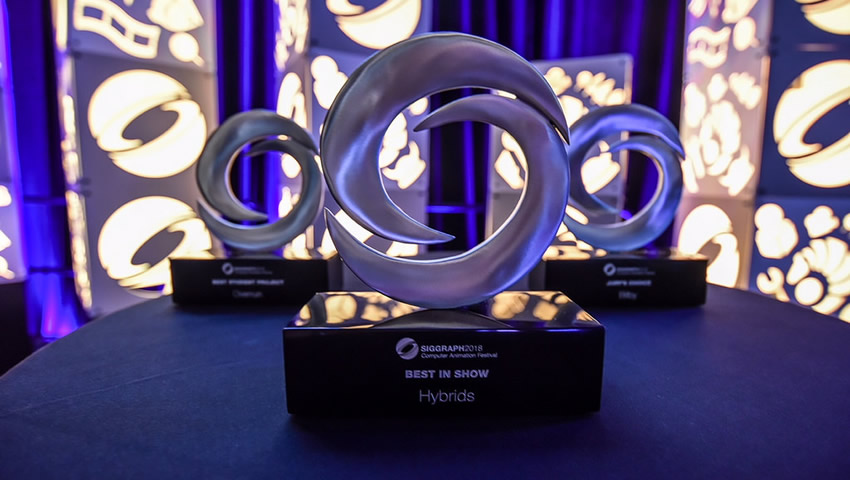 Photo by John Fujii © 2018 ACM SIGGRAPH
SIGGRAPH 2018 Award Winners
Best Real-Time Graphics and Interactivity* 
"Democratizing MoCap: Real-Time Full-Performance Motion Capture with an iPhone X, Xsens, IKINEMA, and Unreal Engine"
Cory Strassburger, Kite & Lightning 
*This award was determined by a six-member jury and the live audience.
Emerging Technologies Best in Show 
"Steerable Application-Adaptive Near-Eye Displays"
Kishore Rathinavel, Praneeth Chakravarthula, and Turner Whitted, UNC Chapel Hill, NVIDIA Corporation; Kaan Aksit, Josef Spjut, Ben Boudaoud, and David Luebke, NVIDIA Corporation; and, Henry Fuchs, UNC Chapel Hill
Computer Animation Festival Electronic Theater
Best in Show – "Hybrids" by Florian Brauch, Kim Tailhades, Matthieu Pujol, Yohan Thireau, and Romain Thirion of MoPA (France)
Best Student Project – "Overrun" by Pierre Ropars, Antonin Derory, Diane Thirault, Jérémie Cottard, Matthieu Druaud, and Adrien Zumbihl of Supinfocom Rubika (France)
Jury's Choice – "Bilby" by Liron Topaz, Pierre Perifel, and JP Sans of DreamWorks Animation (United States)
Audience Choice** – "One Small Step" by Bobby Pontillas and Andrew Chesworth ofTAIKO Studios (United States)*
**Vote tallied on-site after three consecutive screenings.
Best Art Paper 
"Augmented Fauna and Glass Mutations: A Dialogue Between Material and Technique in Glassblowing and 3D Printing"
Tobias Klein, City University of Hong Kong
For more information about SIGGRAPH 2018, including official photographs from the conference, visit the virtual media office. To view select recorded sessions, please visit the SIGGRAPH 2018 website.
The 46th annual conference, SIGGRAPH 2019, will be held in Los Angeles, 28 July–1 August, at the Los Angeles Convention Center.