"Crow: The Legend" © 2018 Baobab Studios
As contributors to both the SIGGRAPH 2018 Production Sessions and Virtual, Augmented & Mixed Reality programs, Baobab Studios' creative visionaries behind "Crow: The Legend" know a bit about storytelling. Larry Cutler (co-founder and CTO), Eric Darnell (co-founder and Chief Creative Officer), Nathaniel Dirksen (digital supervisor), Michael Hutchinson (chief scientist), Kane Lee (head of content), and Scott Peterson (director of interactivity and VFX) gathered to share the process behind the making of the film, why they chose its story, the challenges of VR production, and more.
Experience "Crow: The Legend" for yourself in Vancouver during the team's Production Session on Thursday, 16 August, at 10:45 am PT or watch the experience in the Immersive Pavilion Vrcade.
SIGGRAPH: "Crow: The Legend" was inspired by a Native American myth. Can you explain the process of finalizing the story as well as what made you choose this story?
Baobab: Inspired by a Native American legend, "Crow: The Legend" explores themes of self-discovery, diversity, and selflessness.  We were blown away when we first heard this tale about a character who chooses to sacrifice everything that he values most to help his friends.  What was most inspiring to us was how the Crow's sacrifice ultimately reveals his inner self.
The origin story of Crow exists in many variations throughout Native American culture and has been passed down through countless generations through their oral history.  It was an incredible honor to take this timeless tale and retell it in the brand new storytelling medium of virtual reality.  And of course, we wanted to get it right.  We couldn't have done it without our advisors – Randy Edmunds, a member of the Kiowa Tribe, the Caddo Nation, and an activist who has spent his life fighting on behalf of Native Americans for access to health care, housing and employment; and Sarah Eagle Heart of the Oglala Lakota Nation and CEO of Native Americans in Philanthropy, where she works to build healthy and sustainable communities for Native people.
This interactive narrative pushes VR into new territory by inviting the viewer to step into a storybook-like setting where the viewer has great power over the world.  With a wave of the hand the viewer can make flowers grow, wind blow, and even snow fall.  At first, the animals don't like the changes the viewer brings to their world, but in the end, those changes are exactly what the animals need to flourish.
VR production can be especially challenging. Share a bit about how you prepped a timeline for this project. What were some of the production goals? Some key milestones you set between start and finish?
Baobab: We started "Crow: The Legend" after having two VR experiences under our belt, "Invasion!" and "Asteroids!" Yet we knew that Crow would pose additional challenges given its scope and scale. Early on we identified three production goals that we felt were crucial to the project's success.
It was imperative to capture the broad range of acting required, from broadly comic performances to the subtle and deeply felt performance from Crow after he makes his ultimate sacrifice.
We aimed to push VR into new territory by creating a VR storybook world that we have never seen before. The storybook quality of the piece pays subtle homage to "Crow: The Legend"'s roots in the oral tradition.
The viewer plays a critical role in the VR experience as "The Spirit of the Seasons."  The Spirit has great power to bring environmental change to the world and to the forest animals. Melding user interactivity into the narrative was a key component of the project.
We began production last year by creating a prologue to the story that introduced the characters, the world, and the tone for the larger VR piece. We had a super tight 10-week deadline, which forced us to iterate quickly but enabled us to learn from audiences almost immediately.  The prologue ultimately proved incredibly valuable in establishing a blueprint for the full production. We showcased this piece at SIGGRAPH's VR Theatre last year as well as at film festivals such as Tribeca and Cannes.
Our final interactive VR piece is more than 20 minutes long. The story went through an iterative refinement process more akin to a feature film than a short project. We established several intermediate screening milestones where we viewed the whole piece in context. In the first screening less than 50% of the project was animated, and the rest was shown in storyboards.  Each screening gave us an opportunity to show the whole project to external users and to creative advisors. We continued to make adjustments in story, interactivity, music, and animation right up until the end. Ironically – yet in retrospect, not surprisingly – the last scene to finish production was the prologue that we thought we had "locked" last year!
SIGGRAPH: Technically, what were some of the biggest challenges on "Crow: The Legend"?
One of the biggest overall challenges was the sheer scope and ambition required to create this VR story. Crow: The Legend has 10 characters, 9 scenes, many with unique environments, and a much more dramatic tone compared to our previous projects. While this may not seem daunting for a large-scale feature film or game, Crow really pushed the boundaries of what is possible today in VR.  It required us to up our level of production craft and efficiency by an order of magnitude compared to what we had done previously on Invasion! and Asteroids!
Diving into the details, the two most difficult technical challenges for us were creating the VR storybook look and building a highly interactive musical montage in space.
Our production designer was given the directive to create a "VR storybook look" that had not been seen before. He quickly gravitated to a rich, stylized world where everything is soft, with almost no hard edges. In a feature film, this type of look could be easily achieved by rendering millions of fur hairs, but in VR this is too expensive (at least on today's hardware). We were also not as interested in a realistic furry depiction of our world. Instead, we wanted a more illustrative feel, so we developed a soft dithered or stippled look where all objects have a nice soft fall-off at the edges. It turns out the skunk's tail ended up being the most challenging technical aspect of the VR look. A skunk's tail is of course quite soft and it undergoes extreme deformations, folding on top of itself.  We went through several iterations before coming up with a solution that looked right and was highly optimized for VR.
In "Crow: The Legend," the viewer is the agent of change that drives the story forward. As the viewer gestures, magical wisps emanate from the hands and impact the environment. As part of the VR narrative, the viewer accompanies Crow from Earth into space to bring warmth back to the forest animals. The journey through space is an interactive musical montage where the viewer conducts the "music of the stars."  During the musical montage, the viewer's guided wisps interact with celestial bodies such as planets, constellations, and asteroids.  These interactions add layers of music on top of a base score. The end result is that viewers feel their actions help create not only visuals during the journey, but also the music. And, of course, we make sure that whatever music the viewer "creates" always sounds great.
SIGGRAPH: You collaborated with Native Americans in Philanthropy on this project (and CEO Sarah Eagle Heart will join you for your Production Session in Vancouver). Can you speak to what that process was like and how you became connected with the group?  
Baobab: From day one, John Legend, who plays the role of the Crow, wanted to introduce us to this rising star, Sarah Eagle Heart, the CEO of Native Americans in Philanthropy. Sarah had just organized the largest gathering of Native Americans for the Women's March of 2017.  She visited one of John's earliest recording sessions with Baobab and we just hit it off.  Not only did she see the potential of the new immersive technology to impact lives, but she felt the disruptiveness of the medium might give us an opening to bridge old divides and tell the kinds of stories that mainstream America has overlooked, and in earlier periods of history, has even suppressed.
She quickly became an advisor and a member of our voice cast, along with our narrator and advisor Randy Edmonds. Her organization, Native Americans in Philanthropy, became a co-producer along with John's Get Lifted Films. Their contributions were invaluable and pushed our young indie studio to create a piece with the potential to have a powerful impact on a wide spectrum of viewers. We've been able to bring our VR to the largest powwow in North America, the Gathering of Nations in New Mexico. We recognize there is a dearth of Native American talent in both the VR and animation industries. We are working with Sarah and two other inspiring Native American organizations (Vision Maker Media and Longhouse Media) to create the #GenIndigenous VR Fellowship, focusing on youth and fostering their talent to enter our fields, which we are launching alongside Crow: The Legend.
SIGGRAPH: The theme of SIGGRAPH 2018 is generations. What most excites you about the "next generation" of technology, specifically the future of VR storytelling?
Baobab: We feel lucky to have been part of a generation of filmmakers at our previous companies that embraced computer graphics as a means to create computer-generated animated films and help redefine a genre. It was truly an amazing time for the industry and at SIGGRAPH. Today we are experiencing that same raw excitement and enthusiasm for VR storytelling that we had in those earlier days of CG. It is amazing to be experimenting in this space and helping to redefine once more what is possible.
VR is a brand new medium for entertainment and storytelling. We can immerse the viewer in ways that one simply cannot do in other mediums. We can place the viewer inside the story and give the viewer a role to play in the narrative.  We can elicit compassionate connections with other characters that acknowledge you and care about the fact that you share their world with them.
Stories are in our DNA. They are a part of what makes us human. VR enables content creators to tell engaging stories with characters that the audience empathizes with, such as you would experience in literature or cinema. But with VR we can create compassionate experiences where the viewer develops even deeper empathy with the characters and can act on that empathy because the viewer is a character immersed in the world.
For our team which has deep roots in traditional animated storytelling, this is such an exciting time in animation. Artists can create amazing stories traditionally and allow the viewer to watch a film on screen. But now artists have opportunity to let viewers step into a story and become a central character.  We are not abandoning our filmmaking pasts. Quite the opposite – we are leveraging our animation roots to take advantage of immersive mediums like VR and expand the world of possibilities for animated storytelling.
The creative and technical challenges ahead of us are huge. There are countless sets of new tools and techniques waiting to be invented, but this is what motivates each and every one of us to come to work at Baobab and what we believe will motivate the next generation of technologists, filmmakers, and artists at SIGGRAPH and in our industry.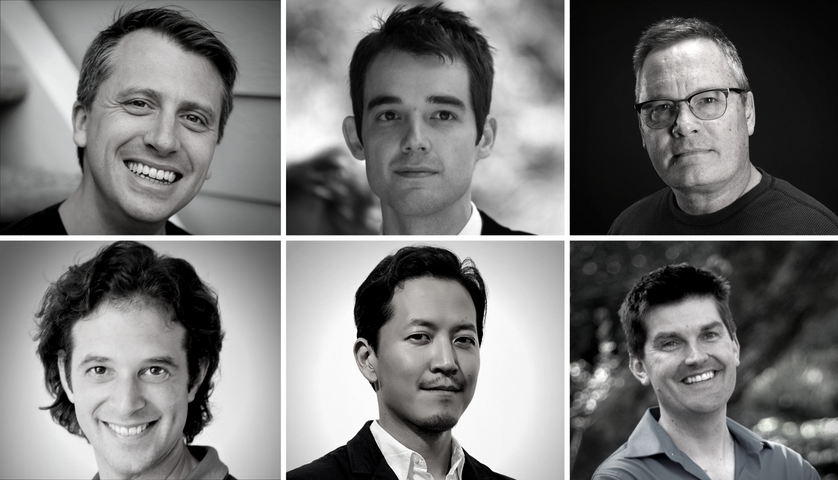 Pictured (clockwise from top left): Nathaniel Dirksen, Michael Hutchinson, Eric Darnell, Scott Peterson, Kane Lee, and Larry Cutler.