It's always unfortunate when the annual SIGGRAPH conference comes to a close, but it is important to take time to reflect, regroup, recharge, and reconnect in order to best capitalize on our experiences and observations in the name of both personal and professional development. Below are some suggestions for how to digest the overwhelming amount of information from the conference and exhibition.
1. Reflect
It's rare that conferences go as expected, and getting back to a regular routine post-conference can become challenging; however, carve out time to evaluate the highlights and improvements in order to help with the efficiency of future conferences. In other words, take time to complete the survey that is emailed to you! Your insights are valuable and most definitely fade with time, so the sooner you can document your favorite tools, lessons, trends, and notes… the better. Plus, it can be fun to tag-team with colleagues and industry peers or new friends by comparing perspectives in a way that can both benefit memory conservation and serve your organization or company.
2. Document
Your takeaways from the conference are precious. Spend time physically organization and documenting your notes. Not only does this help you, but you can approach your supervisor and suggest ways to share key insights with your department and coworkers.
3. Network (Business cards are your best friends!)
Many professionals skip this essential step post-conference because of time constraints, but I find it incredibly valuable: Consider separating the business cards you've collected into categories of importance, i.e., follow-up, follow later, and recycle. Then, begin your follow up! For those connections with whom you discussed a potential employment opportunity or collaboration, reach out either on LinkedIn, another social media platform, or by sending a brief email to digitally thank them for their time and/or insight. The time you spend will pay off greatly and, even if it does not equal an opportunity now, could lead to something great in the future.
4. Follow Up
Sticking with networking theme, I suggest that when you are trying to nurture a connection for the purpose of business or collaboration that you follow through on that discussion as soon as possible. This often takes less than 30 minutes of your time and goes a very long way in displaying dependability and work ethic. I recommend that you not email with a generic template to all the connections you made, but instead show a bit of your personality, interests, and professionalism to each person you're attempting to connect and continue a relationship with.
5. Share
To tie back to some of my earlier points, I cannot emphasize enough how much you — and your colleagues — will value the time you take to share what you learned. Showcasing the significance of the conference can be done by putting together a deck of key takeaways to share in a company meeting (big or small), via email, or you can even share key takeaways with your digital network via social media or blogging.
---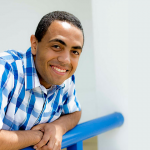 Alexander Bryant was born in the United Kingdom and lives in the greater Los Angeles area. Bryant received a B.F.A. in studio art from Angelo State University and began working with ACM SIGGRAPH as a student volunteer in 2014. Bryant's professional credits include NBC Universal's Esquire Network, Vanity Fair, Access Hollywood, CBS, Entertainment Tonight, the Los Angeles 2024 Olympic Bid Committee, and OWN: Oprah Winfrey Network, among others. Bryant has received an NAACP Image Award nomination, four American Advertising Awards, and an EMMY certificate in production from the National Academy of Television Arts and Sciences.