Every year, the SIGGRAPH conference designs a mug to match the theme for the year. We hope you're as pumped as we are to start using the brand-new SIGGRAPH 2017 coffee (teapot) mug. Here are a few suggestions for alternative ways you might put the classic SIGGRAPH staple to use:
1. As a DESK CADDY
Organize your work space and keep all your pen, pencils, highlighters and more in one easily accessible — and awesome looking — place!
2. As a HIDING PLACE… for Pixel?
Use your mug to play hide-and-seek with Shay D. Pixel! Want to snag one of these awesome bobbleheads (pictured below)? Post a photo during SIGGRAPH 2017 with the hashtag #WheresPixel for a chance to win the collectible.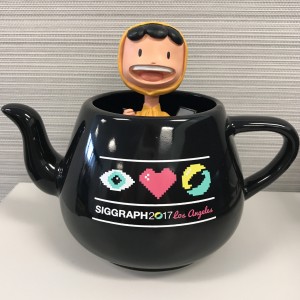 3. As a PLANTER
The mug has just enough depth to serve as the perfect planter for a small succulent or fern like the one pictured for keeping in your work space or at home. Just don't forget to water it!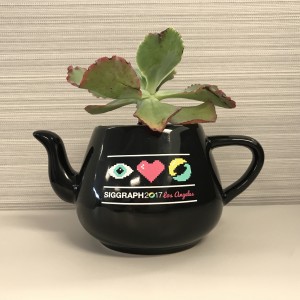 TIP:
DO NOT
use the mug as a
TEAPOT
. It sadly will not work, so a regular mug will have to do… 😀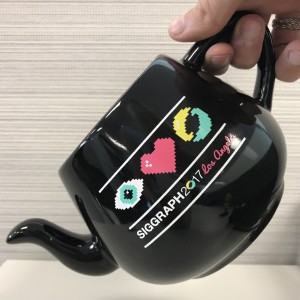 If you missed ordering one of these awesome mugs when you registered for SIGGRAPH 2017, stop by the on-site store to snag one. We can't wait to see how you use yours!