Cosmos Laundromat © 2016 Blender Foundation
When it comes to SIGGRAPH's Computer Animation Festival, there's always more than meets the eye. The leading annual festival for the world's most innovative, accomplished, and amazing digital film and video creators, the festival has been recognized by the Academy of Motion Picture Arts and Sciences as a qualifying event. Since 1999, several works originally presented within have been nominated for, or have received, a "Best Animated Short" Academy Award.
"The festival never rests on its laurels. Since its inception, it has been a beacon, attracting the attention of the best creators in the industry from every corner of the world. … It is a real honor for me to serve as this year's Director, helping to present the 'greatest show on earth.' It is going to be awesome," said SIGGRAPH 2016 Computer Animation Festival Director Roy C. Anthony.
Speaking of not resting on its laurels, the Daytime Selects program has been revamped for 2016 and will offer four, varied sessions targeted to the diverse demographics of attendees. These new, unique formats will include:
BREAK IT DOWN – A chance for attendees to get a behind-the-scenes glimpse at how movie magic is created, featuring demonstrations of today's most stunning visual effects from major studios and a glimpse at how standard techniques can be used in new ways. Celebrate the art of the breakdown with participating studios ILM, MPC, Framestore, Weta, Digital Domain, Pixar, Spin VFX, OLM, Mr. X, and many more!
THE ARCADE – An audience experience that focuses on games from concept art through technology to implementation in cinematic and real time. The show touches on everything from look development through to the amazing accomplishments being made today with modern real-time engines.
>DEMOSCENE_ – A representation of an international computer art subculture that specializes in creating self-contained programs that produce audio-visual presentations. It is designed for computer scientists, GPU lovers, shader architects, and extreme real-time graphics artists to exhibit programming, artistic, and musical skills within highly constrained limitations.
WINNERS' CIRCLE – A celebration of Computer Animation Festival award winners from the past seven years for attendees who wish to revisit some of their favorite winning content from Electronic Theaters of the past.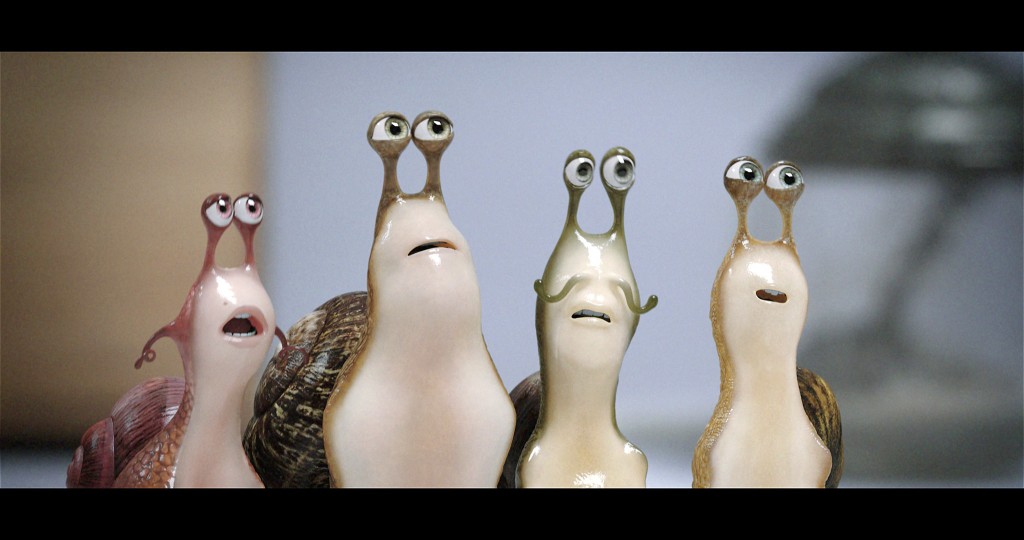 Escargore © 2016 Media Design School
This year's festival submissions were evaluated by an expert jury of professionals who span the visual effects, animation, research and development, games, advertising, and education industries. Selections are listed in the Advance Program and include "Escargore" (pictured above) and the following 2016 award winners:
BEST IN SHOW
Borrowed Time (USA)
Directed by Andrew Coats and Lou Hamou-Lhadj, produced by Amanda Jones
A weathered sheriff returns to the remains of an accident he has spent a lifetime trying to forget. With each step forward, the memories come flooding back. Faced with his mistake once again, he must find the strength to carry on.
[Website]
JURY'S CHOICE
Cosmos Laundromat (Netherlands)
Submitted and Produced by Ton Roosendaal
In this short, Franck, a depressed sheep, sees only one way out of his boring life, until he meets with the quirky salesman Victor, who offers him any life he ever wanted. The piece was created as a pilot for a feature film project that, if it happens, will be the first free, open-source animated production.
[Website]
BEST STUDENT PROJECT
Crabe-Phare (France)
Directed by Mengjung Yang, Gaetan, Benjamin Lebourgeois, Clarie Vandermeersch, and Alendandre Veaux
The Crabe-Phare is a legendary crustacean. He captures the boats of lost sailors to add them to his collection. But the crab is getting old, and it is more and more difficult for him to build his collection.
[Website]
---
Press play below to watch the SIGGRAPH 2016 Computer Animation Festival Trailer, rated "S" for SIGGRAPH. To register for the conference, 24–28 July, click here. For more video content from the conference, check out the SIGGRAPH 2016 YouTube playlist.