Photo: Student Volunteer Subcomittee. From left: Emma Gauthier (Marketing Lead), Craig Harkness (Communications Lead), Muunuu Nandijav (Program Manager/2017 SV Chair), Christian Wittorf (2016 SV Program Chair), Fahad Haddad (Industry and Outreach Lead), Sarah Rust (Technical and Systems Lead)
---
Emma Gauthier is the Marketing Lead on the SIGGRAPH 2016 Student Volunteer Subcommittee and recently sat down with us to share the inside scoop on the Student Volunteer Program.
SIGGRAPH 2016 (S2016): How many Student Volunteers (SVs) does it take to run the conference?
Emma Gauthier (EG): The number of SVs can vary, depending on where SIGGRAPH is located that year and the number of Programs on the conference lineup. On average, though, the SIGGRAPH Student Volunteer Program accepts between 350–400 students each year to serve as the conference's main operation support.
S2016: Can you tell us more about the 10-month process of assembling your team of SVs?
EG: The process of assembling next year's team starts almost as soon as SIGGRAPH ends! The Student Volunteer Subcommittee gets about a 4-week break post-conference before beginning efforts to fill empty positions on the Subcommittee, make changes to the SV application, and get all our ducks in a row before the SV Application opens again in November.
Throughout the fall and into early winter, we monitor application submissions, answer applicant questions, and continue to market everything that makes SIGGRAPH and being an SV so awesome. We're always looking to grow the SV Program with more amazing students and this application window is the best time to do it.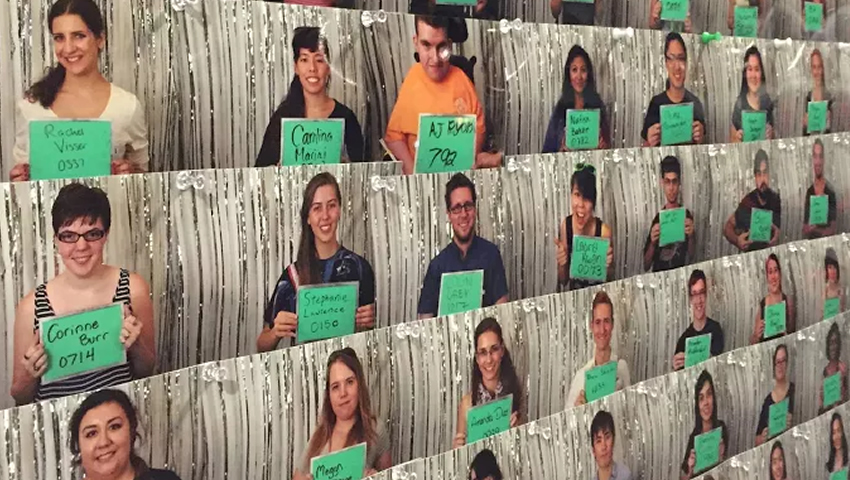 Early in the New Year, the Student Volunteer Subcommittee likes to meet for a weekend-long brainstorming party we call "Calibration." At this meeting, the Subcommittee has nonstop discussions about Program logistics, Team Leader selections, on-site operations, and ideas and initiatives we'd like to see in the future. This is also a really nice bonding time for the Subcommittee — it's invaluable when we need to work like a well-oiled machine on-site.
The SV Application closes in February, and from there, the Subcommittee and selected Team Leaders take on the task of jurying hundreds of applicants; this year, we saw over 1,000 applications come in. This process takes a few weeks, and 350–400 SV acceptances are sent out not long after at the end of April. Then, from May to conference time, we are in 100% SIGGRAPH mode — we send training materials to accepted SVs, schedule shifts, go over floor plans, and finalize SV Special Sessions and other perks for our volunteers.
Then (as you already well know!) SIGGRAPH comes and it's a 7-day whirlwind of hard work, adrenaline, and great times. We catch our breaths, say goodbye… and the process starts all over again.
S2016: What are the main activities that SVs are involved in?
EG: Student Volunteers literally do everything! If you can name the job, there's probably an SV that does it. SVs greet attendees, check badges, answer questions, usher big events, help speakers prepare, assist contributors, demonstrate technologies on the floor, and so much more. There are also SVs that contribute their unique skills to helping at the conference, like providing language translation services or using video production skills to help document the conference (like some of our Portuguese SVs did for virtual attendee Paolo last year).
S2016: How can this opportunity help SVs in their future careers?
EG: Being a SIGGRAPH Student Volunteer has been described as "an internship on steroids" … and, joking aside, it's kind of true! SVs are given the opportunity to push out of their comfort zones and practice being proactive, helpful workers for the duration of the conference. They get to develop their interpersonal, conflict-resolution, and problem-solving skills in one jam-packed week and many SVs report that they feel better equipped after this experience. As well, the SV Program and SIGGRAPH Student Services (S3) work together to provide portfolio reviews and other professional development resources for SVs. Our SV Special Sessions are another great opportunity for students to get close and ask questions of industry professionals in exclusive, SV-only sessions.
S2016: What was your favorite experience as a Student Volunteer?
EG: My favorite experience as a Student Volunteer isn't tied to one event — I love being a part of the talented, diverse, and (most importantly) good-hearted community that's constantly lifting each other up and encouraging one another to say "yes!" to opportunities, growth, and success. As a Subcommittee member, I feel really fortunate that I get to play some small role in empowering students to go after their goals.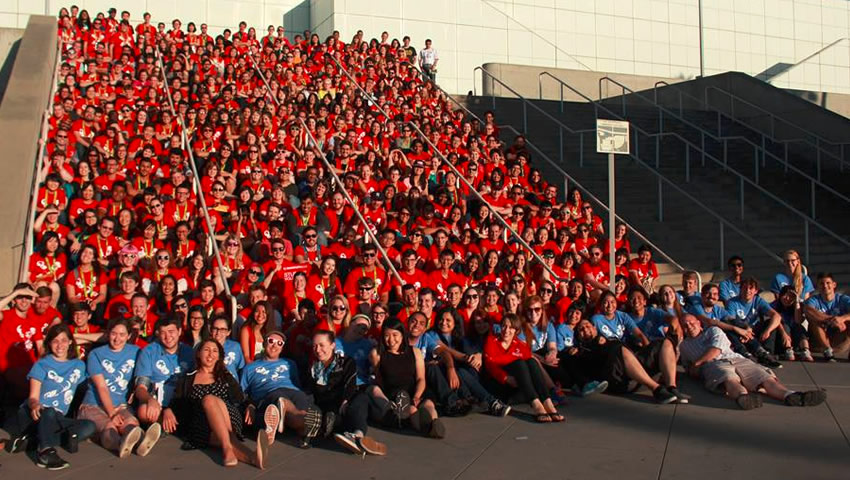 S2016: What are some goals that SVs set each year?
EG: Many students come to SIGGRAPH with different goals — some are really interested in learning about the job market, others are there for more technical knowledge and skill development, and still others just love to come and experience the inspiring sights and sounds and get a creative "recharge." But many more come with the goal of continuing (or beginning!) their service to this awesome conference.
S2016: Advice for student volunteers?
EG: If the path unfolding in front of you feels scary, exciting, and serendipitous all at once … always, always, always say "yes." Also, style must be sacrificed onsite – wear comfortable shoes! Always try to see CAF on Opening Night, don't forget your business cards, and never be afraid to make a new friend. 🙂
S2016: Anything else you'd like to include?
EG: We love this conference and this community, and we're dedicated to fostering the next generation of volunteers that will keep SIGGRAPH going strong. Encourage the great students in your life to apply to SIGGRAPH! And last but not least … #proudtobeSV!
Emma's SIGGRAPH SV Fun Facts!
SVs were the guinea pigs for the awesome "WHAM! City Lights" pre-show attendees saw at the SIGGRAPH 2015 Computer Animation Festival. (Thanks, Mikki!)

The SV alumni community spans six continents and speaks 20 different languages.

SVs ate over 70 pizzas in one sitting after the 2016 SV Orientation (and still had leftovers!).

SVs wore over 700 red SV t-shirts — donated by the amazing folks at DreamWorks.

SVs worked over 8,000 cumulative hours on-site at SIGGRAPH 2015.

The SV community uses the hashtag #ProudToBeSV across social media to share stories and connect.