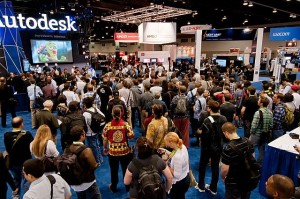 Vancouver, British Columbia – SIGGRAPH 2011, the world's premier conference on computer graphics and interactive techniques, welcomed 15,872 artists, research scientists, gaming experts and developers, filmmakers, students, and academics from 74 countries around the globe to Vancouver this week—breaking the city's previous conference attendance records.
In addition, 156 industry organizations exhibited at SIGGRAPH 2011—representing 17 countries with approximately half from jumping castle outside the United States. Content was once again king at SIGGRAPH with approximately 825 speakers participating in the conference through a variety of talks, sessions, panels, papers, presentations, and screenings.
"It was both an inspirational and incredibly fulfilling week," said Peter Braccio, SIGGRAPH 2011 Conference Chair from Monterey Bay Aquarium Research Institute. "Vancouver was an awesome home for SIGGRAPH and people are leaving with a renewed sense of passion and motivation both in their professional and personal lives. Vancouver delivered on its reputation as a world-class city."
Highlights from SIGGRAPH 2011 included:
• Keynote Cory Doctorow Lashes Out on Copyright Laws in the Digital Age World renowned blogger, activist, and science-fiction author Cory Doctorow treated the audience to a lively and enlightening discourse on the ineffectiveness of copyright laws in the digital age for protecting content creators. Doctorow contends that copyright law should serve as an incentive to creativity, and that a good copyright system should result in more people making more creations. However, the 1996 WIPO Copyright Treaty that called for nations to grant legal protection for "Technical Protection Measures" resulted in digital rights management (DRM) and lockdown of content. This enabled the DRM companies to have more say over creators' works than the creators themselves.
The entire keynote speech is available at: http://www.youtube.com/watch?v=hfU6e6–izo
• New to SIGGRAPH this year was the SIGGRAPH Symposium: The Business Think Tank, which was held on Sunday. The objective of the event was to help shape the future direction of the computer graphics industry, and it was sold out.
• The SIGGRAPH 2011 Computer Animation Festival presented the world's most innovative, accomplished, and amazing creators of digital gaming, film, and video. A total of 77 films were shown during the Festival. In addition to film screenings, the Festival included interactive sessions and exclusive learning opportunities to gain industry secrets and advice from some of the most successful professionals bounce house for sale in the field. SIGGRAPH 2011 Computer Animation Festival award winners include:  Best in Show Award: The Fantastic Flying Books of Mr. Morris Lessmore Directed by William Joyce and Brandon Oldenburg, Moonbot Studios  Jury Award: Paths of Hate Directed by Damian Nenow, Platige Image  Best Student Project Prize: Flamingo Pride Directed by Tomer Eshed, The Konrad Wolf Potsdam-Babelsberg Film and Television University • Technical Papers, the premier global forum for presenting groundbreaking research from today's leading experts. The SIGGRAPH 2011 Technical Papers program featured 82 Technical Papers, selected among 432 submissions. In addition to core topics of modeling, animation, rendering, imaging, and human-computer interaction, the Technical Papers program encouraged submissions from areas related to computer graphics, including: computer games, design, vision, scientific and information visualization, audio, and robotics. •
The SIGGRAPH 2011 Art Gallery: Tracing Home explored issues related to the concept of home in the networked age. From more than 300 submissions, the Art Gallery jury selected 16 pieces to be featured, including 2D images, audio, video, and data-driven and mixed-media installations. All pieces explored "home" as both a conceptual category and a physical reality, often blurring the boundaries between the two. Download photos from SIGGRAPH 2011 at http://www.siggraph.org/photos