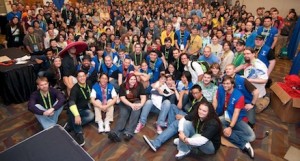 Apply now to be considered for an invitation to join an  incredible group of gifted and dedicated students who help make SIGGRAPH possible.
The SIGGRAPH Conference draws thousands of attendees together from around the world, along with industry professionals who are linked by a drive to push the boundaries mechanical bull for sale of advanced computer technologies. As a Student Volunteer, students will get to peek behind the curtain and become an essential part of running this prestigious, international event.
Please encourage the industry's future leaders to apply!
We need students who demonstrate leadership, enthusiasm for service, and a passion for computer graphics and interactive techniques. But hurry! The deadline is coming up very fast: 5 February 2013, 22:00 UTC/GMT. For information on how to apply, eligibility requirements, benefits and more click here. You may also access our online application system directly here.
Need some assistance promoting the program to students?
Visit our documents page on our website (powerpoint presentation, web banners, etc.), view our presentation online, or become a fan of our Twitter or Facebook page!
Thanks to friends like you, we have been able to promote the SIGGRAPH Student Volunteer Program to a greater number of students than ever before! Last year, a majority of our students heard about the Student Volunteer Program through a teacher, mentor, or an advisor. We need your help again this year to promote this unique opportunity to students.
Right-brained or left-brained, we are all working to advance the world of computer technologies. We invite you to encourage students to volunteer for this unparalleled experience–it's a no-brainer!
We hope to see you in Anaheim in 2013!
Best Regards,
Gracie Arenas Strittmatter
SIGGRAPH 2013 Student Volunteer Program Chair
sv2013@siggraph.org