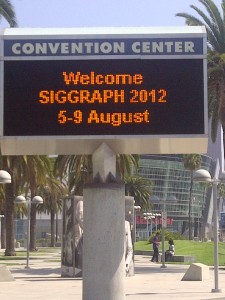 The SIGGRAPH 2012 Perfect Blend of Art & Science Starts 5 August 2012
Schedule
Download the SIGGRAPH 2012 Locator for an advance preview of all SIGGRAPH 2012 onsite details, highlights and schedule information. A printed copy will be provided to all SIGGRAPH 2012 attendees on site in LA.

From your computer or mobile device, the SIGGRAPH 2012 Scheduler allows you to browse SIGGRAPH 2012 programs, sessions, and events by program, day and time, registration level, and focus. Then create your own customized schedule for the week. Save, view, and update your schedule on your desktop or mobile device. Export it to your calendar, and share it with colleagues and friends. The scheduler is optimized for all browsers and operating systems.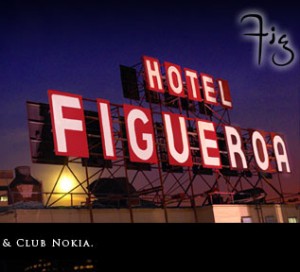 Your LA experience is not complete without a cocktail poolside at this hotel.
Housing and Transportation Information
Still need to plan your stay in Los Angeles? SIGGRAPH can help. Visit the SIGGRAPH web site for a list of some available Los Angeles hotels. Rates will vary from the official conference rates as the housing deadline has passed.
All changes to existing reservations should now be made directly with your assigned hotel.

Hotel-Convention Center Shuttle Service
SIGGRAPH 2012 provides complimentary shuttle service between many conference hotels and the Los Angeles Convention Center. Attendees who used the SIGGRAPH 2012 hotel reservation system to make reservations at hotels served by the SIGGRAPH 2012 shuttle buses will receive a shuttle wristband when they check in. The JW Marriott, Figueroa and Luxe Hotels are considered walk hotels. Attendees who did not book through the SIGGRAPH 2012 reservation system and wish to use the shuttle service can purchase wristbands at the SIGGRAPH Store.

Airport Shuttle Bus Discounts
SIGGRAPH 2012 has partnered with Super Shuttle to offer transportation to and from Los Angeles International Airport (LAX).
Shared Ride Van: $13 per passenger (up to 9 passengers) Town Car Service – $63 per sedan (up to 4 passengers). These discounted rates are valid from five days before the conference to five days after it closes.
Book by phone at 800.258.3826 (toll free) or +1.310.222.5500, extension 4. To receive the discount, you must mention the SIGGRAPH 2012 discount code: PK7AU. Or you can book online at the Super Shuttle web site.
Drivers accept cash and all major credit cards for all transfers.
If you book your shuttle reservation through the SIGGRAPH 2012 web site, you earn miles on American Airlines, United Airlines, Delta, and Frontier Airlines.
Cancellations or changes for Shared Ride van transfers and sedan cars made four hours prior to the scheduled day of transfer will not incur a cancellation fee. Cancellation or changes made within four hours of the scheduled day transfer, or no-show, will be charged the estimated cost that was quoted at the time of the reservation (mini-buses need 72 hours for cancellation).

Safety Tip
When walking around any conference city be certain to remove your badge and secure it in a safe place. Displaying your badge in public areas outside a convention center advertises that you are probably not local and may make yourself more vulnerable to a crime or aggressive panhandling.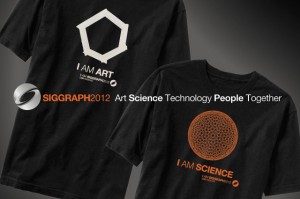 Find your answers in a few short days.
Registration Information
Upon arrival at the Los Angeles Convention Center, please proceed to the registration area in West Hall, Petree Hall C to pick up your badge. Registration hours throughout the week are as follows:
Sunday, 5 August, 8 am – 6 pm
Monday, 6 August, 8:30 am – 6 pm
Tuesday, 7 August, 8:30 am – 6 pm
Wednesday, 8 August, 8:30 am – 6 pm
Thursday, 9 August, 8:30 am – 3:30 pm
Upgrade to Full Conference Registration
If you are registered at a category other than Full Conference, you still have time to upgrade your registration to Full Conference for complete access to the technical program.
SIGGRAPH Business Symposium Spaces Available
A few spaces are still open for the SIGGRAPH Business Symposium, an intimate, interactive forum for discussion about the present and future of our industry and community. Full Conference attendees can add SIGGRAPH Business Symposium for $75.

Live Stream of Mars Rover Landing
Watch history in the making with your fellow SIGGRAPH 2012 attendees. The Geek Bar, Room 404 in the Los Angeles Convention Center, will be open immediately following Technical Papers Fast Forward on Sunday, 5 August. The Mars Rover landing feed will start around 10:30 pm. Please bring your conference badge and note you are responsible for transportation back to your hotel afterwards.

Watch the "seven minutes of terror" here:
Live Stream of SIGGRAPH 2012 Awards Talks
Watch a live stream of the ACM SIGGRAPH Award Talks, taking place Monday, 6 August from 2-3:30 pm. Be sure to share this information with your friends and colleagues at home who might want to tune in.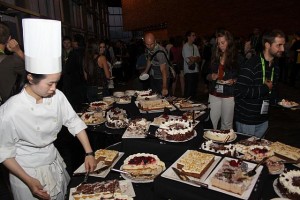 Anyone with a passion for networking and sweets will not be disappointed.
Networking Dessert Reception
Monday, 6 August, 9 – 11 pm JW Marriott Hotel Los Angeles at L.A. Live, Diamond Ballroom Share professional and personal updates with colleagues from around the world at the SIGGRAPH community's highest energy, most anticipated social event of 2012. Enjoy delicious desserts and toast-worthy beverages for celebrating the past year's achievements and future challenges. A ticket is required to attend this event. If you didn't purchase a reception ticket with your registration, they will be available for purchase in the Registration Area in West Hall, Petree Hall C at the Los Angeles Convention Center.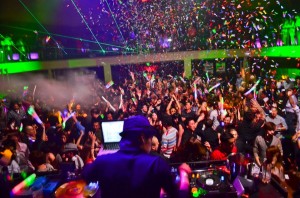 Exchange LA was used as a filming site for "The Social Network" and Heidi Klum's "Top Model" TV show
ACM SIGGRAPH Chapters Party
Monday, 6 August, 8:30 pm – 2 am
Exchange L.A., 618 Spring Street, Los Angeles
Please Note: You must present a party invitation – available at the ACM SIGGRAPH Chapters Booth at the Los Angeles Convention Center – or your conference badge to enter Exchange L.A.
The new SIGGRAPH Mobile content is certain to be popular with attendees.
New for 2012: SIGGRAPH Mobile
This first-time SIGGRAPH program showcases the incredible advancements and discoveries in the field of mobile graphics and apps through a series of presentations, panels, workshops, and demonstrations. The following are a few highlights of SIGGRAPH Mobile: Mobile GPUs: Markets and Technology Wednesday, 8 August | 9-10:30 am | Room 406 AB Understanding Mobile Graphics – GPUs and Platform Wednesday, 8 August |10:45 am- 12:15 pm | Room 406 AB Mobile Graphics – Hardware and Software Techniques Wednesday, 8 August | 2-3:30 pm | Room 406 AB Mobile Applications – In Your Hand and On the Road Wednesday, 8 August | 3:45-5:15 pm | Room 406 AB
SIGGRAPH Merchandise
Looking for gifts for friends, colleagues, relatives, or yourself? The SIGGRAPH Store in the South Lobby is your best shopping option for SIGGRAPH 2012 merchandise and clearance items from previous years including shirts, mugs and more! Purchase Prior Computer Animation Festival DVDs Prior Computer Animation Festival Programs on DVD will be available for purchase on site at SIGGRAPH 2012 in the South Lobby of the Los Angeles Convention Center. All SVR DVDs $5/ea 5 DVDs $20 10 DVDs $40 11 DVDs + $3/ea
Wireless Access
SIGGRAPH 2012 offers conference attendees wireless internet access in most areas of the Los Angeles Convention Center. To use this service, attendees should have a laptop computer or other mobile device with a built-in wireless network card or with an external wireless adapter. Please refer to your device's operating system and network adapter documentation and follow this general procedure: 1. Document all existing TCP/IP and wireless configuration information before you make any changes. 2. Configure your device to use DHCP. 3. Configure your wireless adapter Network Name (SSID) to be "s2012". No encryption or password options are required. Users should be aware of the security considerations when using any unencrypted, public-access wireless network. For assistance or further information, please contact GraphicsNet in Room 308A.
Camera/Recording Policies
No cameras or recording devices are permitted inside any SIGGRAPH 2012 content area (Art Gallery, Emerging Technologies, Sessions, Studio, Talks, Computer Animation Festival, Exhibition, etc.). Abuse of this policy will result in the loss of your registration credentials. Not all contributors have granted complete public access to their works, information, descriptions, and other details – so please respect this request and allow SIGGRAPH to continue to offer such robust and cutting-edge content.
Age Requirement For Exhibition Access
Children under 16 are not permitted in the Exhibition. Age verification is required.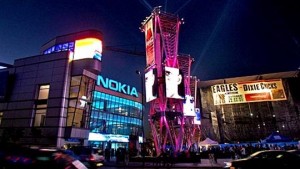 LA Live is a popular networking destination for SIGGRAPH attendees.
Around Los Angeles – Things to Do
Downtown Los Angeles offers historic districts, restaurants, clubs, and cultural institutions, all within an easy walk or short cab ride of the SIGGRAPH 2012 hotels. If you haven't already, visit the SIGGRAPH Los Angeles page on our web site for helpful information about city guides, maps and weather information, local news, as well as resources suggesting the best places to dine.
Los Angeles Food & Wine Festival
Exclusive to SIGGRAPH 2012 attendees – Receive 25% off your ticket to the Los Angeles Food & Wine Festival 9-12 August at L.A. Live. To receive your discount, purchase your ticket online and the 25% off will appear at check out.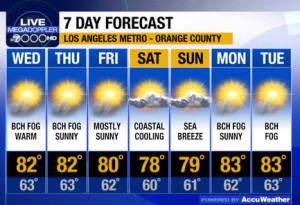 Actual weather forecast for next seven days in LA.
Weather and Attire
Los Angeles is an amazing city with lots to do and explore, so you'll want to be sure you're dressed comfortably for your excursions. Local weather tends to be warm during the day, but can get chilly at night. Check the local weather forecast before you pack to be prepared for the climate. Please remember that the LA Convention Center will be air conditioned and can be extremely chilly, so dress in layers to make sure you are comfortable both indoors and out.
Stay Up-to-Date
Visit the SIGGRAPH 2012 website, follow the official SIGGRAPH 2012 Twitter feed @siggraph and become a fan of SIGGRAPH 2012 on Facebook for the most up-to-date event details and information and continue to check back here for updates and photos. Whether coming from near or far, the SIGGRAPH 2012 team wishes everyone safe travels to LA and we look forward to making your 2012 experience memorable and beneficial.