Following is a brief Q&A with SIGGRAPH's Exhibition Management team in regards to the SIGGRAPH 2012 Exhibition and what attendees can expect.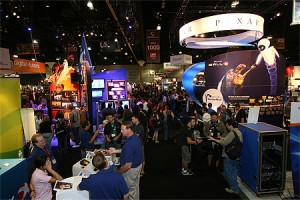 The SIGGRAPH Exhibition is always an energetic marketplace for the latest technology.
How are numbers compared to previous years? 
We are seeing growth throughout the entire exhibition in all sectors. Long-time exhibitors are taking larger exhibit space and new exhibitors are flocking to LA to show off their latest offerings. Exhibit space is up over 12% compared to 2011 and we continue to ride the wave of excitement from the success of SIGGRAPH 2011 in Vancouver.Bouncy Castle
What are some things you see as creating the biggest buzz at this year's Exhibition? 
3D technology breakthroughs offering new tools that are easy to interact with and work on various platforms (film editing and effects, construction, medical, etc.).  This is further evidence that SIGGRAPH is much more than just a computer graphics show. We are seeing an increase in simulation and interactive experiences. Gesture recognition and mobile-enabled software is also hot.
Is it too late to purchase booth space? 
No, the floor plan is tight, but we can definitely get a few more companies on to the exhibit floor.

Which companies are new this year?
Approximately 25% of our companies are first-timers. This is the similar as to what we saw in 2011, which is great because in 2009 and 2010 only 10% of the exhibitors were new. 

What is the international country breakdown? 
We have 19 different countries represented with 37% of our companies coming from outside of North America.
Who has the biggest booth this year? 
Right now it is Autodesk
What is the history behind the playing of "Amazing Grace" at the end of each SIGGRAPH Exhibition?
When the industry was just beginning Hewlett-Packard began playing the song in the early 80's from their booth. Exhibitor staff from around the floor and attendees would mechanical bull for sale gather at the booth at the close of the Exhibition and hug and say their goodbyes while the song was playing. In the mid-90's, Hewlett-Packard stopped bringing a sound system that was able to reach the entire Exhibition floor, so it was decided that the song would be played throughout the Exhibition over the speakers in the hall.
What advice do you have to attendees when hitting the Exhibition? 
Give yourself plenty of time to see the Exhibition and speak with the exhibitor staff and ask them what is new and different. There are so many new products that exhibitors bring – don't miss the opportunity to discover the latest advancements and bring that knowledge back to share with your colleagues.