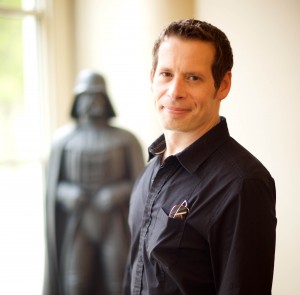 Jason RM Smith, SIGGRAPH RTL! Chair
Following below is a brief conversation with Jason RM Smith, SIGGRAPH 2012  Real-Time Live! (RTL!) Chair and Digital Production Supervisor at LucasArts.
Real-Time Live! is the premiere showcase for the latest trends and techniques for pushing the boundaries of interactive visuals. As part of the Computer Animation Festival, an international jury selected submissions from a diverse array of industries to create a fast-paced show of cutting-edge, aesthetically stimulating real-time work.
Here is the link to this year's content.
Why is SIGGRAPH's Real-Time Live! (RTL!) program relevant?
Real-time graphics is a growth engine of almost all CG-based industries and many other industries that embrace computer graphics anywhere in their process.  We see techniques running in real time now that were only recently being pioneered into a pre-rendered pipeline; the progress is staggering.
Ultimately real-time graphics allow creatives to be creative faster; improving iteration speeds by hundreds, thousands, sometimes tens-of-thousands of times, drastically driving up quality and reducing costs.  Looking at where the show has come—in five short years, it's clear the pace is picking up; it's hard to imagine what RTL! will look like in a few years from now, let alone another five.
How has your role changed this year in comparison to last year?
Last year involved outreach across industries, establishing a sub-committee and building recognition around the show.  This year has been more focused on evolving the show to be able to support the most cutting-edge work available.  It's more of a challenge from a logistical standpoint; we have presentations requiring prototype hardware and complex machine configurations in addition to bleeding edge software builds.  More risk, but considerably more reward; there's no doubt it's what SIGGRAPH attendees expect and it makes for a much more exciting show.
Is there content that would appeal to both novice and expert?
One of the strongest and most unique pieces of the show is the format – it really helps ensure every project is accessible.  It's informal; no slides – just the artists and engineers with their projects breaking down their approach and techniques used in creating the work.  When the presenters get technical, there are relevant and interesting visuals on screen supporting the dialogue; in terms of content delivery, RTL! is  as practical as it gets.
We have 10 pieces showing this year and have doubled the length of presenter time from four to eight minutes each.  It will make a difference to the depth of each talk but still allows us to cover a good number of projects.
Here's the video of highlights from 2011:
Any trends in Real-Time Live! content this year?
Yes! The next generation of rendering engines, both commercial and proprietary, are really making a big play this year – we had so many strong game technology submissions that they could have filled their own show.
Then there are the projects built from the technology; we actually received more entries for unreleased games this year than released titles – another first.  I think it goes to show we're really at a transitional point in the games industry right now as the hardware and software progression enables a very noticeable jump in visual fidelity.
To complement the heavy games focus, we received a number of real-time movies alongside a wide range of unusual, thought-provoking and entertaining projects like Beauty: Real-Time Visuals and the augmented reality gesture-based project, Arcade.
Switching gears a little, did the selection of Jane McGonigal as keynote speaker surprise you?
Not at all! Jane's knowledge, passion, and drive epitomize everything SIGGRAPH represents — she's the perfect keynote. I'm planning on getting there early, because it's going to fill up quick.
Do you share her philosophies about the potential for game development/gaming to solve real-world problems?
Absolutely; humans have been using games to solve problems for many years. It is well proven that learning through an enjoyable experience is significantly more productive, and we achieve more through competition than without it. There is definitely still work to be done, but Jane makes a very compelling case that it can be done— and it's more a question of when.  Original thinkers with contagious attitudes, like Jane, are catalysts to make things happen. The more people are aligned with this way of thinking, the sooner we'll see previously unimaginable, world-changing results. I'm on board!
So, to round up… how does the SIGGRAPH RTL! program differ from things like GDC and E3? What more does it have to offer?
There's a number of differences, the first being the diversity and breadth of content.
Real-Time Live! accepts submissions from any area of research or industry. This means we see incredible, 100-million dollar commercial projects and amazing independent, solo projects from completely different industries side-by-side on stage. The breadth and quantity of submissions ensures there are always world-exclusive showcases for interesting and groundbreaking projects.
The second reason speaks to SIGGRAPH's roots around sharing knowledge.
Real-Time Live! allows the project creators to present their tricks, techniques, and solutions with peers from all areas of computer graphics, and probably even beyond CG. Last year we had a line of attendees speaking to the presenters after the show; there was a great buzz. SIGGRAPH has always felt like a community, and like many other programs, Real-Time Live! carries the same vibe with the underlying goal of sharing knowledge. It's the cross-over with education, research, and many types of industries, both on-stage and with the attendees, that makes it unique.
Finally, what newsworthy / big announcements are you excited about with this year's content?
World exclusives! Never-before-seen footage and breakdowns from a number of huge titles and technology projects, including Square-Enix, LucasArts, Epic Games, and Unigine to name a few.
Real-Time Live! provides the first opportunity to peek behind the curtain on these new projects — it's fantastic that these studios and individuals are being so open and forthcoming with new intellectual property, ideas, and techniques. It's a genuine privilege and very exciting to have them on stage at SIGGRAPH 2012.