The SIGGRAPH 2011 Marketing and Media team has created this blog to provide SIGGRAPH media with a central point for the latest information and announcements regarding the upcoming conference in Vancouver, Canada. Return to this blog for updates and important announcements.
Following below is a brief conversation with Peter Braccio (pictured below), SIGGRAPH 2011 Conference Chair from the Monterey Bay Aquarium Research Institute , on what to expect this year.
SIGGRAPH travels outside the United States for the first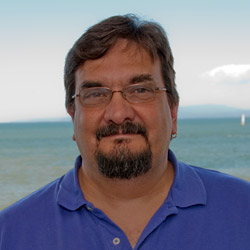 time in its history – what brought about this exciting change?
Vancouver was an obvious choice as a host city for SIGGRAPH as it has large and vibrant groups in all of our major SIGGRAPH communities: artists, academics, film production, gaming, VFX, research, and more. Plus, it is both an international and an inspirational city. As for being outside of the United States for the first time, this is merely an extension of the fact that SIGGRAPH is an international event.
That being said, I can't think of a better city for SIGGRAPH's initial foray outside of the United States' border than Vancouver. And it offers relatively easy access for all the industry situated on the West Coast. Besides the concentration of our various communities here, we also have one of SIGGRAPH's most active Professional Chapters based in Vancouver. So, in a real sense, we are actually coming home. It's just to a place that we've never been before.
If someone has never visited Vancouver before what should they expect?
The first thing you'll notice is that the area is just drop-dead beautiful. The way the mountains jut out of the bay reminds me a bit of the fjords of Norway. The second thing that you'll learn quickly is that the Vancouver residents are just down-right friendly and helpful. This has made the long hours of conference planning inflatable water slide a joy. And there's something for everyone here outside of the conference – whether that be family activities, nightlife, outdoor activities, shopping, or dining. It is a major international city and should make this year's conference extremely memorable.
How do you expect it to impact attendance or content?
That's the $64,000 question, isn't it? At least as far as attendance numbers it is. We believe that the attendance figures are going to be comparable to what they were at SIGGRAPH 2010. While we may have a few less United States attendees, we are likely to pick up more attendees from Asia and Europe due to the Canadian location. More importantly our focus isn't on the number of bodies, but the quality experience we provide everyone who attends.
As for content, we're seeing no decrease in submissions. In fact, our General Submissions deadline just passed and we saw a 47% increase in completed submissions over last year's numbers. We saw significant increases in Technical Papers, Games Papers, Art, and Art Papers submissions as well. While numbers don't directly correlate to quality, we feel very comfortable in saying that SIGGRAPH 2011 will be at least as good as past conferences in that regard.
What is the vision behind this year's theme: "Make it Home"
The theme revolving around "Home" came out of a brainstorming meeting in 2010. A small group of us were discussing what the conference means in our lives and how we should use this as a way to reach out to our attendee groups. The fact that the word "groups" is plural is key to this discussion. SIGGRAPH does not have a homogeneous attendee base like most other conferences. This leads to conflicting interests at times. However, it always provides great opportunities because you have access to many points of view given the diverse audience.
The second step on the road to this theme concerned this being the first SIGGRAPH Conference outside of the United States. We talked about how we were going to have to educate our attendee and exhibitor base that it might not be more expensive to do X or harder to do Y, but that there just may be different roads that we would have to follow in order to accomplish what we did in the past. We also discussed that on a daily basis the world is getting smaller. We deal with, and affect, people around the globe constantly. The fact that the conference is not going to be in the United States could be inspirational and show the strength of our organization and its members.
At this point in the process, a planning group member stated that all of these discussions were reminding her of a postcard that she has tacked up in her house. It is a picture castelo inflavel of the Earth taken from Apollo 17 (the famous Blue Marble photo). Directly under the photo was one word: Home. This idea resonated with the people in the room. It didn't matter WHERE the conference was. It only mattered WHO made up the conference. We would be home no matter where we were.
Previously you served as the Guerrilla Studio chair (which is a daunting task in itself), what motivated you to take on the role of overall conference chair?
I'm still trying to answer this question to myself. Basically I felt that I owed it to the conference. I've learned a lot from my attendance at the SIGGRAPH conferences and have met some of my best friends here. In my household, the joy of attending the conference is not limited to me. My wife, Rachel, has been helping out in The Studio since the first time I ran that venue in 2000. In 2003, my children, Jacob and Sierra, began to come to the conference with us. So, in a very real sense, The Braccios have made SIGGRAPH "home" for a long time.
How is the SIGGRAPH conference trying to remain relevant?
This is a hard question because it deals with perception. As I've already pointed out, SIGGRAPH is made up of many different communities. What is relevant to one is maybe somewhat or totally irrelevant to another.
That said, I believe that we are making strides in addressing the needs of several communities that may have not felt as embraced at SIGGRAPH in recent years. For the people in the trenches in the Production Communities, we instituted the Dailies! Program in 2010. This is a program that applauds the craft of using the tools we have rather than the innovation of the tools themselves.
Another group that we are engaging is the people whose business is computer graphics. In 2011, we are launching The SIGGRAPH Symposium, the business think tank. This will be a day-long discussion concerning many of the thorniest issues facing a group actually trying to make money with computer graphics. Check back to conference website for details about this exciting new program.
What are some of the things that you are most excited about for the 2011 conference?
I think that the The SIGGRAPH Symposium is going to be a big deal that is going to spark conversations that take place well after the conference is over. This day-long event has the potential to change how a lot of people are doing business. And it will be an opportunity for executives tobogã inflavel and professionals from different backgrounds to network and engage each other in way that has never been experienced at SIGGRAPH. Plus, our exhibitors are responding to the venue change in a very positive fashion – as of today we are currently outpacing booth space sold, quantity of exhibitors, and international exhibitors from what we achieved in Los Angeles at this time last year.
What changes (if any) should attendees expect this year?
Besides The SIGGRAPH Symposium, the biggest change that long-time attendees will see is that we are planning on moving the Reception to Monday night. It will start a bit later in the evening as well and will be a dessert reception. There are a couple of pluses to doing it like this for 2011. The first is that, since the reception will be in the convention center where people will be able to interact with the Art Gallery, Emerging Technologies, and The Studio during the reception. (These venues will open for reception attendees.) The second plus is also logistical. The Reception will start shortly after the Monday night Electronic Theater lets out. Since the reception is one escalator ride away from the Electronic Theater, there should be no time conflicts this year.
Attendees should also expect to be fully engaged by the beauty of this city. You will be inspired by the content in the conference as well as by the amazing natural beauty you encounter literally just outside the convention center.