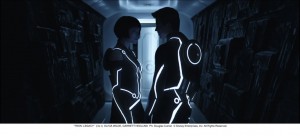 "TRON LEGACY" (l to r) Olivia Wilde, Garrett Hedlund Ph: Douglas Curran
© Disney Enterprises, Inc. All Rights Reserved.

Walt Disney Pictures' highly anticipated film "TRON: Legacy", a 3D high-tech adventure set in a digital world unlike anything ever captured on the big screen, will be the focus of a filmmaker panel discussion during the SIGGRAPH 2010 Computer Animation Festival in Los Angeles on Tuesday, 27 July at 3:45 p.m.bouncy castle for sale
"SIGGRAPH is honored to host this discussion on 'TRON: Legacy', the much-anticipated sequel to what was monumental filmmaking in a past era," said Isaac Kerlow, Computer Animation Festival Director from The Nanyang Technological University, ADM/EOS. "The original 'TRON' was one of the first films from a major studio that used extensive computer graphics, and the industry expectations are that this sequel will also mark significant achievements in what is possible in computer graphics now and in the near future."
Panelists-"TRON: Legacy" director Joseph Kosinski and producer Jeffrey Silver, and visual effects supervisor Eric Barba and animation supervisor Steve Preeg from Digital Domain–will present a special reel from "TRON: Legacy" and answer audience questions. The panel will be moderated by David Cohen, associate features editor from Variety.
About the panelists:
Joseph Kosinski, Director, "TRON: Legacy"
The impeccably designed and visually innovative creations of Joseph Kosinski have quickly made him a highly sought-after commercial and feature film director. His work, which specializes in merging live action with purely digital elements, represents a fusion of skills stemming from Kosinski's background in architecture, product design, engineering, and music. Kosinski has directed many high-end commercials, including award-winning campaigns for Xbox videogames Gears of War and Halo, Sony PlayStation, Hummer, and Chevrolet.
Jeffrey Silver, Producer, "TRON: Legacy"Jeffrey Silver has produced a wide range of feature films through his production company Biscayne Pictures and his partnership with Outlaw Productions. Silver recently produced "Terminator Salvation" and "300". In the course of his career, Silver has produced both studio and independent pictures, including "Training Day", "The Santa Clause" and its two sequels, "Addicted to Love", and many others. For television, Silver produced the pilot and first two seasons of the hit ABC series "The Wonder Years", for which he won an Emmy® Award for Best Comedy Series.
Eric Barba, Visual Effects Supervisor, Digital Domain
Eric Barba is the Academy Award®-winning visual effects supervisor of "The Curious Case of Benjamin Button". He has been at Digital Domain for 14 years, and like many of the top directors with whom he collaborates, Barba is equally comfortable working in film or advertising.

Steve Preeg, Animation Supervisor, Digital DomainSteve Preeg has been creating digital characters for more than a decade, for movies including "Final Fantasy: The Spirits Within", "The Lord of the Rings: The Two Towers", "The Lord of the Rings: The Return of the King", "I, Robot", and "King Kong". Preeg recently received an Academy Award® for achievement in visual effects on "The Curious Case of Benjamin Button". He also created visual effects for "Pirates of the Caribbean: At World's End", "Flags of Our Fathers", and other movies.
The Production Session for "TRON: Legacy" will be held Tuesday, 27 July from 3:45 p.m. – 5:15 p.m. in the Los Angeles Convention Center, West Hall B. Passes for the Computer Animation Festival are available for the entire week or on a daily basis for as little as $50. For more information, click here.